Adapting to hearing aids and setting expectations
Getting hearing aids to treat hearing loss is an important step, but it's not the finish line. When you first begin to use hearing aids, your brain will be startled once it begins receiving signals that its been missing. Your brain needs time to get reacquainted with high frequency sounds of speech and other noises. Adapting to hearing aids is a process that takes time, commitment, education, and patience.
Five steps to hearing success
The following principles have been used by thousands of hearing aid wearers to successfully transition to better hearing health.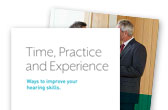 Time, practice and experience brochure
Download PDF