The final day of the Hearing Innovation Expo focused on business and growth strategies that can help lead to entrepreneurial success.
Author and noted speaker Simon Sinek opened up Day 3 with a speech that helped attendees learn how and what inspires people. Sinek's talk touched on the basic chemicals that drive human behavior and how they impact the decisions we make. They include:
Endorphins – the energy we receive to complete physical tasks. Sinek mentioned "runners high" as an example of this.
Dopamine – the feeling we get when seeking and receiving rewards. Sinek, said dopamine is released when we check our phone for text messages or emails, make a sale or meet a goal.
Sinek warned that endorphin and dopamine are based on individual behavior and can at times be dangerous.
Serotonin – the chemical behind pride. Sinek mentioned any type of recognition, like receiving a business award, releases serotonin.
Oxytocin – the chemical responsible for our feelings of love and friendship.
Sinek stressed that great leaders and organizations inspire others to generate serotonin and oxytocin by creating an environment of trust and belonging "Leadership has nothing to do with rank ... leaders sacrifice time, comfort and energy so others succeed and survive," said Sinek. "The cost of leadership is self-interest. Leaders choose to lead and sacrifice themselves for their people."
During a Twitter Q&A session, Sinek was asked how leaders can motivate people. "The best way to keep employees engaged is to give them responsibility and let them feel valuable for their work," said Sinek.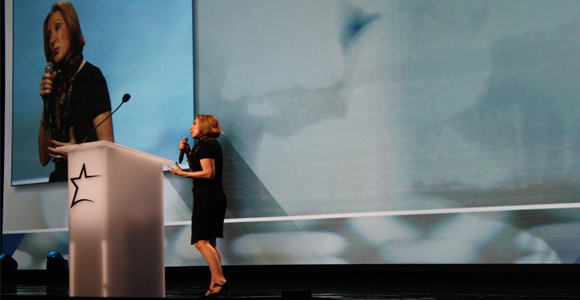 Following Sinek's dynamic talk, former business executive Carly Fiorina spoke about how leaders and change start with people. Fiorina began her speech by laying out her keys for business success: A good product, compelling value proposition, knowing why the customer chose you and preparing for change.
Fiorina said that to her, leadership is not a title or corner office and that leaders are made, not born. "Everyone has the ability to lead, leaders see opportunities and help others seize opportunities," said Fiorina.
Great leaders understand and embrace fear explained Fiorina. "Our imagination of things we fear is always worse than the reality," said Fiorina. "Don't let fear hold you back from being a leader ... standing still is the greatest risk of all."
During the Twitter Q&A session of her speech, Fiorina was asked how attendees can prepare for change without causing panic with their team. Fiorina said that business owners need to lay out a compelling case for change to their employees. "Define why the current state isn't working and explain why you can't stay there," said Fiorina. "Then, explain why and how you are going to get to where you need to be."
The morning general session ended with an inspirational talk from Starkey Hearing Technologies CEO and founder of the Starkey Hearing Foundation, Bill Austin. Austin reminded Expo attendees that we're together in the business of changing people's lives through the art of better hearing, whether in an office setting or as part of a hearing mission. He inspired the audience to take action and better the world through showing care and respect for one another. Austin's speech ended with an update on the Foundation's goals and a sneak peek at what's to come with a new global movement, Operation Change.
Afternoon elective sessions focused on best practices for entrepreneurial success. One of the highlights of the afternoon breakouts was the session with adventurer and businessman Jamie Clarke. Clarke has summited Mt. Everest twice, is an author, filmmaker, inspirational speaker and business leader. He is the co-founder of an outdoor gear retail shop called the Out There Adventure Centre, located in Calgary, Alberta, and is also the CEO of LiveOutThere.com, an ecommerce company that was recently ranked by Profit Guide Magazine as one of Canada's 50 Fastest Growing Companies.
Humble and humorous, Clarke spoke on his successes and failures in adventure and business. He emphasized that the same thing that makes an Everest expedition successful makes a business successful: understanding risk and building a team. Owning a business is hard; similar to mountaineering, you can expect to take four steps to gain one foot. Clarke encouraged attendees to keep climbing and support your teammates and business partners on their journey as if it were your own.
President George W. Bush provided a dynamic end to the afternoon session during a candid conversation led by Vice President of Audiology and Professional Relations, Dave Fabry. Topics ranged from leadership and parenting, to dealing with crisis and his post-presidency charitable work in Africa.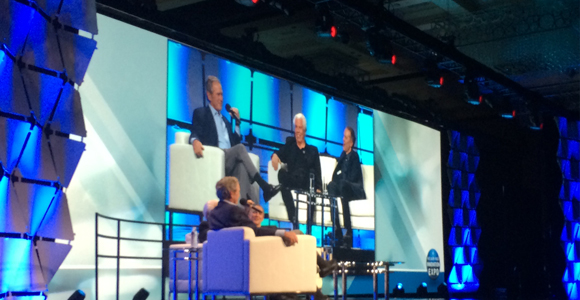 President George W. Bush on leadership:
"Know what you know and what you don't know, then surround yourself with people who are experts."
"As a leader, when you're successful, give someone else the credit. When you fail, take the heat."
"Leaders need to let employees know they have their back in times of crisis."
Parenting
"During the difficult teen years, I told my daughters, there is nothing you can do to make me stop loving you, so stop trying."
"The greatest gift a parent can give a kid is unconditional love, like my parents gave me."
On 9/11
"My first reaction was I was hot ... my blood boiled. But I knew my job was to protect our country and project calm in a time of crisis."
Dealing with adversity
"Something will happen to you that you don't want to happen. Are you going to be overcome with self-pity or suck it up and deal with it?
On serving others
"To whom much is given, much is required. Americans need to understand how well-off we are and that we have a responsibility to help others throughout the world."
On his first hearing mission in Africa with Bill Austin
"I've had a lot of great experiences in my life but seeing a mother's reaction to her daughter hearing for the first time was priceless."
Retirement
"Don't ever retire, just change your assignments."