Recently I had the opportunity to speak with Dr. Natalie Phillips of Advanced Otolaryngology and Audiology about how her practice has used social media. Dr. Phillips is board certified in Audiology and is a Fellow of the American Academy of Audiology and committee member of the American Board of Audiology.
How long have you been using social media for your practice?
Natalie Philipps (NP): I have been using Facebook professionally for the past 3 years, but have recently become more active in using Twitter for our practice within the past year. While attending meetings, conferences and workshops, social media provides a great opportunity to become an active participant in presentations and topic discussions, as well as contests for tweet-of-the-day, ideas to perpetuate your "brand," as well as exchange information and market your practice. I found it quite interesting to be able to use social media in a fun, yet professional way during a workshop or conference to engage the audience you are targeting. I also learned that relaying information as I am learning is a great way to keep followers up-to-date and a way for me to "keep notes" on the take-aways I want to remember.
How often do you post on your social media sites?
NP: My goal is to try to post at least once a day on the different sites, including Facebook and Twitter, but I use social media all day, so often it ends up being multiple posts each day.
What type of content do you use? (photos, product info, etc)
NP: I like to use a variety of content: information I think patients, consumers and providers may find interesting, inspirational items and comic relief. Some of the posts are links to articles, some photos, as well as updates in technology, services and events available locally and nationwide.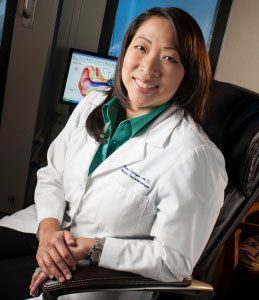 What social media medium (Facebook, Twitter, etc) do you find the most useful for your business?
NP: I haven't made up my mind on this yet as I feel people are currently trying to get more involved in social media. You can sit back and post and "like" topics, but I feel you also need to be present and available. I think there are ways you can use social media to actively reach out to people, drawing them in as well as getting them to take the next step and becoming more involved.
What type of posts do you find typically gets the most user engagement?
NP: I have seen a lot of user engagement on posts that contain pertinent content and stories about people especially when they include a photo or a positive outcome. I also see many people respond to contests or giveaways. The posts that I see get the most user engagement on my site is when I tag friends, other practices, or manufacturers in the conversation.
Tell me about a Facebook post or tweet that seemed to really resonate with your fans or followers.
NP: People like to see personal things – something they can relate to or identify with. One of the posts that reached out to people and engaged them included new technology I was using to take pictures of eardrums with an iPhone. Other posts included pictures of our staff in Broncos gear #UnitedInOrange for the playoffs and participating in a deaf and hard of hearing teen day at a local high school. I have found that many of the subjects/topics that capture other's attention include staff unity, community outreach and cool technology.
What advice do you for hearing care practices that may be struggling with how to use social media for their business?
NP: I would have to say just get going and set goals for yourself. Even just a little goal is something that can be accomplished and will allow you to reach for the next goal ahead. Don't be afraid to start, don't compare yourself with others, just be yourself and let your personality and brand for your practice be reflected through your posts.
Understand that although you are relaying information to people, it is also a great way to connect and collaborate with like-minded professionals. Social media has been instrumental in expanding my professional network.
You can read interviews with how other hearing care practices are utilizing social media here and here