Hearing aid users have wanted music to sound better for a while, and now with our new Muse hearing aids, they can have it. Celebrated musician James Holt shares how his Muse hearing aids have helped him enjoy and create music better.
Music has the power to make us cry, laugh, and bring us together in ways we cannot always explain. For those who create it, music is an inescapable passion. But music also has its own language, one that hearing loss can often impede or distort.
James William Holt, 23, has had hearing loss since birth yet he has never let this hold him back. Despite a moderate-to-severe mixed hearing loss (conductive and sensorineural), James is an acclaimed musician in the United Kingdom who plays a unique blend of folk and alternative rock music. His song 'Whatever Happened to John?' was chosen by world-renowned producer Brian Eno in the 2014 NOISE Festival for its fresh feel and great drumming. In April, James released a new album, "Sanguine on the Rocks."
James holds a First Class BA Honors Degree in music from the University of Salford, has a grade 8 in piano, guitar and the cello, has a grade 8 in theory and has been honored with the Derek Scott Composition Award. He's currently studying for a Masters in Composition at the University of Salford and performs regularly in big cities across the United Kingdom.
"Music has been in my life from a very early age," James said. "My first memory of playing a musical instrument would be playing on an old piano at my grandma's house when I was 5, and shortly after that I learned to play the piano, the guitar when I was 9, and the cello when I was 12. The main challenge for me was coming up against people's preconceptions that deaf people can't study music or it would be a struggle. So it has been the case of proving them wrong and doing what I love."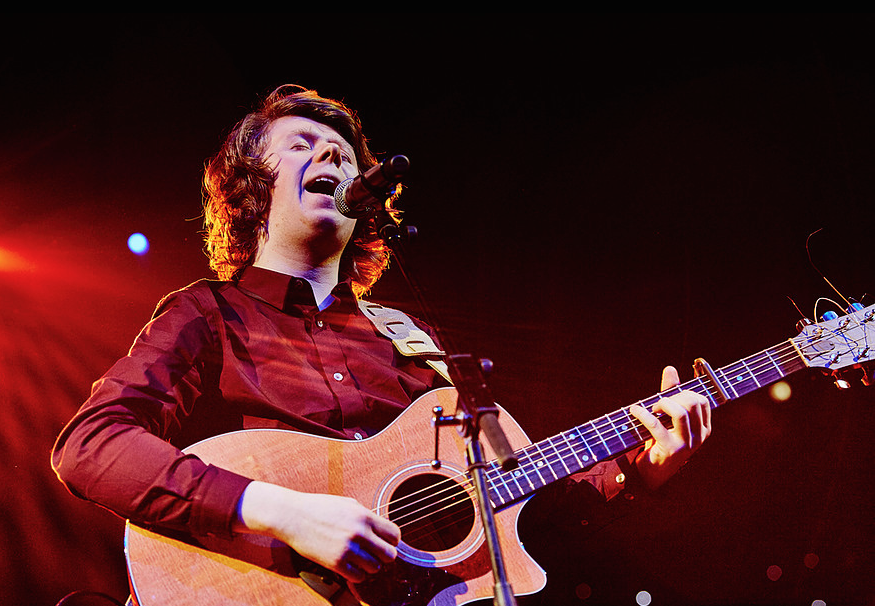 Photo courtesy of James Holt.
Helpful Hearing Aids
Hearing aids, too, have been in James' life from a very early age, helping him push past the barriers his hearing loss created and enabling him to pursue his musical career.
He's worn hearing aids since he was about 4 years old, needing them for school. At 7, he began wearing In-The-Ear hearing aids. Before being fit with Muse hearing aids this spring, James was having great success with the Starkey Z Series.
"Starkey is always improving their hearing aids and I can hear the improvements in each new model I use," he said. "They help me in performing, recording and give excellent clarity when listening to music."
When Muse was released this spring, James decided he was ready for his next Starkey upgrade. "I was keen to try the Muse hearing aids as they were specifically beneficial to music," he said.
Muse hearing aids include a unique prescription designed specifically to process music and are the first hearing aids ever to process music differently from speech. [Read about how the music prescription was created here.] Music signals have different acoustic features from those of speech, different dynamics and different spectral characteristics, enabling music to sound like music again. Muse also includes a unique music memory that can be personalized for a user's specific listening preferences.

Photo courtesy of James Holt. Photo credit: Joe Okpako Photography.
Muse: Better Music, Better Speech
James has been wearing Muse for a couple of months now, and the impact Muse has had on his life and music is incredible.
"I'm one of the first in the U.K. to be fit with Muse hearing aids, which are the best quality and feature the most innovative technology available anywhere in the word today," James said in a recent press release from Starkey U.K. "As soon as I was fit with Muse I experienced immediate improvements in the speed and frequency of sounds I was able to pick up – not only music but also in speech. Starkey has added more bandwidth to the device, which means I'm now hearing sounds and nuances that my previous devices weren't able to detect."
More specifically to his music, Muse has profoundly impacted James' ability to hear and interact with his music. "Muse has been developed to make it easier, clearer and crisper to listen to music. My upgrade to Muse has had a real impact on the difference in the sound quality that I can hear — which means I can do more in the studio or at a gig."
James notes that Muse's unique processing power helps him achieve the exact loudness and sound quality preferences he desires to create the music he wants to. "I can hear soft music and then I can adjust the hearing aid settings – from normal to music – to enjoy both on- demand and automatic sound control," he said. "The additional bandwidth added to the Muse hearing aids allows me to hear higher frequencies, which has been very beneficial in my music making as I can now hear the higher tones and nuances within the music."
"The technology is improving all the time, and I'd strongly recommend anybody with hearing loss to wear hearing aids," James said. "I couldn't manage without my hearing aids."
For more information on Muse hearing aids click here.
To learn more about James and to download his new music, visit jamesholtmusic.com.