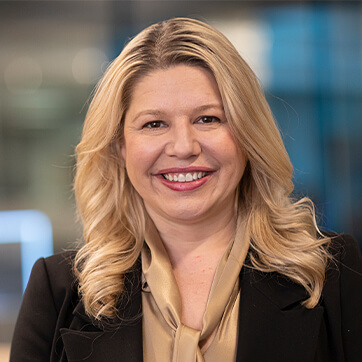 Amber Knettel
Vice President of American Hearing Benefits
What do you do at Starkey?
I joined Starkey in mid-September as Vice President of American Hearing Benefits (AHB). I am responsible for the business unit to drive growth in the third-party payer markets.
What did you do before arriving here?
Prior to joining Starkey, I was at Best Buy as VP of Commercial Services. Best Buy acquired several companies in the healthcare arena, which created a division of Best Buy Health. They are focused on the senior market, offering fall prevention and detection services, along with remote patient monitoring of individuals with chronic conditions. My primary focus was delivering services through technology to payers such as Medicare, Medicaid and Commercial, monitoring and responding to patient needs.
Prior to working at Best Buy, I was Senior Vice President of Amplifon Hearing Health Care and my focus there was to build the third-party payer division. During that time, I saw a shift in the market, as third-party payers were making great strides to include hearing healthcare benefits and have continued to do so in providing coverage and care for members.
I have a deep passion in building transparency and relationships around hearing health in the third-party payer market. Through experience, I can confidently state if a patient has coverage for hearing aids through their payer, two key things occur: 1) patients are motivated to use their funded benefits, and 2) if they are aware they have a funded benefit, they adopt hearing aids at a younger age than the traditional patient. Hearing health care, benefits and claims processing are all confusing. One of my mottos is taking away the confusion, giving the patient educational tools and transparency to achieve the guiding principle of allowing us to provide the best patient care experience.
When it comes to your job and your goals for 2021, what are you most excited about?
American Hearing Benefits has some great third-party payer relationships established in their portfolio today. However, one measure of success is to gain increased market share. AHB has competitors in the market today. The AHB team wants to help drive more business through Starkey. One of the first things that the AHB team wants to address is an improved "customer experience." When I say customer, our business is to satisfy the patient, provider and payer in order to increase market share.
What challenges do you anticipate?
I am fully aware that third-party payers are not everyone's primary focus or passion. As stated above, it can be really confusing, but at AHB, we will continue to educate and remove barriers in this market to expand our network of providers and payers in hearing health.
In your new position, how do you hope to help people hear better, so they can live better?
With the AHB team, we will build on the successes we already have put into place and continue to penetrate the market by offering more members access to hearing benefits.
Furthermore, I am excited about Starkey's products. They offer so much more than the traditional hearing aid. We can truly gain insights from the hearing aid data we receive to help individuals better monitor their health and social engagement. As a caregiver of my father (with chronic conditions), I believe that our products help "change the conversation." I can tell a significant difference in activity and engagement when my dad is wearing his hearing aids.