Our Corporate Social Responsibility
Together, we can make a difference in the lives of people who need it most.
At Starkey, we are caring, fearless and dedicated. Caring is our top value and has always been at the core of everything we do. It's our "why" and something that we weave into every area of our company. Our passion for changing the world starts with our product innovation and comes to life through the people and communities whose lives are forever made more vibrant as a result.
Starkey Cares* is our public commitment to corporate social responsibility designed to bring people together under the common bond of caring for one another. It consists of three pillars: commitment to our local communities in need, commitment to our veterans and active-duty military, and commitment to our world.
You can find more information about Starkey Cares below; however, if you have questions about the program please email us at starkeycares@starkey.com.
*Starkey Cares is not affiliated with the Starkey Hearing Foundation which focuses on education and training for hearing health professionals in developing nations.
Our core commitments
Local
Communities
Veterans &
Military
Our
World
---
Commitment to our local communities
Delivering the gift of hearing through our Neighbors in Need program
Starkey was founded on the principles of helping others. At the core of our business is providing a more robust and equitable life experience to those who are hard of hearing. Starkey helps communities struggling to afford hearing aids by helping them acquire technologies that they wouldn't otherwise be able to afford.
We do this by offering cutting edge hearing solutions at a dramatically reduced price. To learn more about the Neighbors in Need program and to be referred to a Starkey Cares partner to see if you qualify, please email us at neighborsinneed@starkey.com or by calling, 855-686-2202.
Bill, White Bear Lake, MN

Bill lost one of his hearing aids during the COVID-19 global pandemic, when he removed his face mask while out running errands. He was able to receive new hearing aids through the Starkey Cares program and in his words, "I can hear again!"

Keierra, Atlanta, GA

After being bullied at work because of her hearing loss, Keierra found herself at her lowest point. The Starkey Cares program helped make an immediate positive impact on her life with new hearing aids.

Enrique, Farmington, MN

Enrique was diagnosed with MS in 2012. He has been blessed with neighbors and friends who assist him, one of whom called about our program and brought Enrique in to our Eden Prairie office to receive hearing aids. Enrique said, "I've fallen in love with them (my hearing aids). They have everything!"
Starkey employees caring in their community
Through Starkey's Volunteer Time Off benefit, employees are able to take paid time off to perform service projects in their community. Below are a just a few examples of our effort!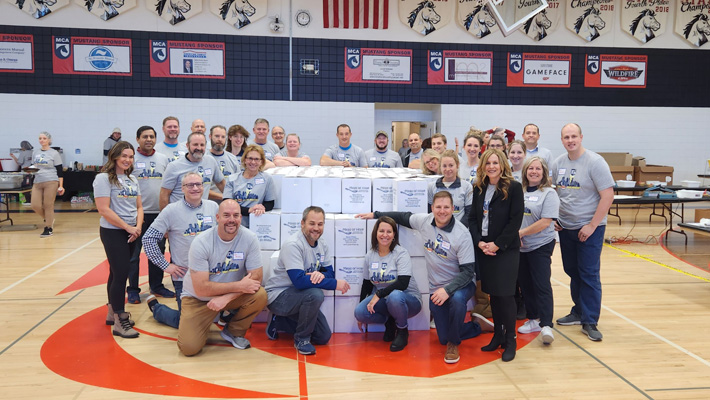 IT Moment of Connection
At Starkey, we are always looking for quality ways to come together, invest in relationships, and demonstrate Starkey values. Our IT team, led by CIO Eric Hanson, has started a monthly "Moments of Connection" initiative. As part of this effort of giving back to our communities, IT staff gathered to pack meals at Meals for Minneapolis, a local organization that packs and delivers food to food shelves in our community.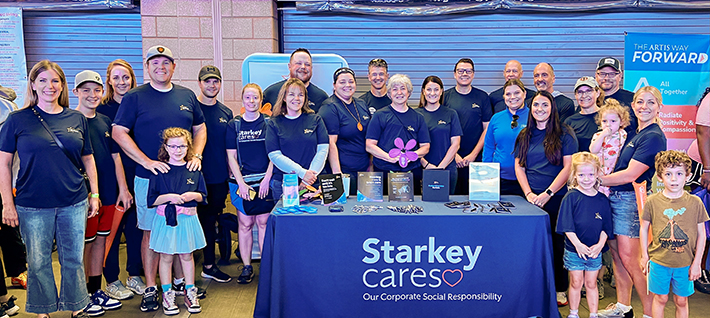 Starkey Walks to End Alzheimer's
Members of the Starkey team joined thousands of caregivers, family members, volunteers, and those living with Alzheimer's who participated in the Alzheimer's Association's Walk to End Alzheimer's in Minneapolis. Held annually in more than 600 communities nationwide, this is the world's largest fundraiser for Alzheimer's care, support, and research. Team Starkey Cares was the third highest corporate fundraiser for the event!
Commitment to our veterans & active-duty military
Helping our American heroes
As the only American-owned hearing aid company, Starkey believes that those who dedicate their lives in service of our country deserve our gratitude and assistance as they navigate their service careers and eventually move into the next chapter of their lives.
As such, Starkey supports veterans organizations in the United States through sponsorships, partnerships and by bringing the best in American innovation to those who helped us safeguard our nation.

Starkey Cares is proud to be title sponsor for Flags for Fort Snelling, an annual event that places an American Flag at every headstone of Fort Snelling National Cemetery in Minnesota. Flags for Fort Snelling was created to honor fallen soldiers who passed in service of the United States of America. Over the course of Memorial Weekend, volunteers from Starkey will fill tote bags with bundled flags, place flags on each headstone, and then collect the flags from headstones. Starkey Cares reminds us all to pause and remember those who gave the last full measure of devotion in service of others.

Support for the Beyond the Yellow Ribbon program
As part of our ongoing support of those who have served our nation in uniform, Starkey Cares was proud to be a sponsor of the Beyond the Yellow Ribbon of Chaska and Minnesota Assistance Council for Veterans golf tournament at Deer Run Golf Club. The sold-out golf tournament helped support Veterans experiencing homelessness. We thank our customers, employees, and family members who have served!
Commitment to our world
Innovative solutions to address the issues of our time
What we offer the world is only effective if it reaches the individuals for whom we create our products — and that these individuals come from a variety of different backgrounds, geographies, and lived experiences.
As a company that is focused on caring for others, our employees are at the heart of serving. Employee service is lived each day through our 5,000 employees located around the globe who devote volunteer hours and financial support to local and global organizations.

In March of 2022, Starkey and Special Olympics, created a global partnership that increases access to hearing health services worldwide for individuals with intellectual disabilities. A gift from Starkey Cares, Starkey's Corporate Social Responsibility program, will make Starkey the global supplier of hearing instruments for the Special Olympics Healthy Athletes® Healthy Hearing program and will provide key support and hearing instruments at some of Special Olympics' signature events, such as the 2022 Special Olympics USA National Games in Orlando (USA), and the 2023 Special Olympics World Summer Games in Berlin (Germany).
"At Starkey, we believe hearing connects us to our humanity. We created Starkey Cares, our Corporate Social Responsibility program, to show those who need access to hearing health that we will take care of them. This partnership will allow us to make a difference in even more people's lives around the world, so these athletes can get back to doing what they love!" said Tani Austin, Chief Philanthropy Officer for Starkey.
We proudly donate and support other organizations and charities such as:
Clinton Global Initiative
Elton John Aids Foundation
Eden Prairie Community Foundation
Pacer Center