I'm so glad you asked! To answer this question, it helps to first answer "What is Bluetooth®?" Let's do a short lesson on Bluetooth technology so that we can talk about how Bluetooth technology pertains to hearing aids.
What is Bluetooth?
Bluetooth is "the global wireless standard for simple, secure connectivity." It is a means for one piece of electronic equipment to wirelessly communicate with another piece of electronic equipment. It works by sending short-range radio waves to another piece of equipment that is programmed to recognize it. You might be familiar with this technology in the form of wireless earphones, laptops and portable speakers.
What is a Bluetooth hearing aid?
A Bluetooth hearing aid is a hearing aid designed to recognize the radio signals that are sent from other pieces of electronic equipment and wirelessly communicate with them. For instance, Starkey's popular Halo, Halo 2 and Halo iQ hearing aids use Bluetooth low energy (a subset of Bluetooth) to wirelessly connect to and communicate with Apple iPhone® and iPod®.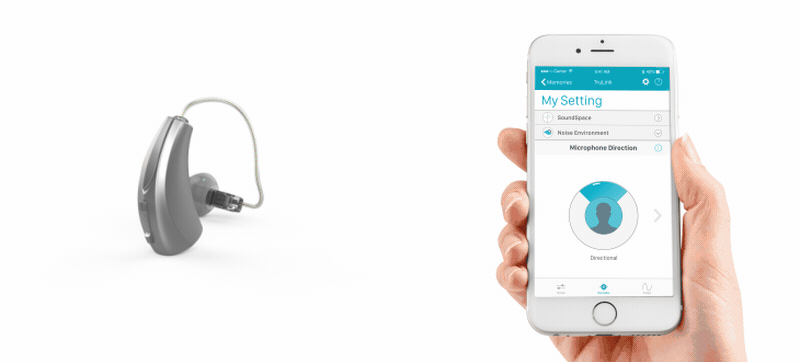 What is the advantage of having a Bluetooth hearing aid?
The biggest advantage of having Starkey's Halo hearing aids is that they make it possible for audio content on an iPhone (phone calls, music, podcasts, videos) to be sent directly into the wearer's ear, as if there is no distance between what they are trying to listen to and the ear. This means the signal that enters the wearer's ear is crisp and clean, with no ambient noise interfering.
For example, when the Bluetooth hearing aids are connected to the wearer's iPhone and it rings, the person talking on the other end of the line will be piped directly into the wearer's hearing aids. There would be no more trying to squeeze the phone close to the ear; no more trying to find the sweet spot where the hearing is easiest; no more wondering if a call was missed because the wearer couldn't hear the iPhone ring.
Ask a hearing professional about Starkey's Bluetooth low energy hearing aids, Halo
That is just one example of how Bluetooth hearing aids can enhance a hearing aid wearer's life. But there are many more, especially when paired with an app, like our easy-to-use TruLink app.
To experience the benefits for yourself, ask your hearing professional to try Starkey Halo hearing aids — or click here to read more about them for yourself.
Join our community of Starkey Blog subscribers
Want a week's worth of Starkey blogs delivered to your inbox? Sign up here.