After months of planning and anticipation Day 1 of the Hearing Innovation Expo is finally here! The entire Starkey Hearing Technologies team is thrilled to welcome more than 3,400 of our closest friends for the biggest event the hearing industry has ever seen.
The focus on Day 1 is hearing aid technology. Senior VP Brandon Sawalich opened up the morning session with an inspiring message. "People want to be helped, not sold to," said Sawalich. He encouraged attendees to take all of the knowledge they gain over the next three days and put it to action as soon as they get back to the office.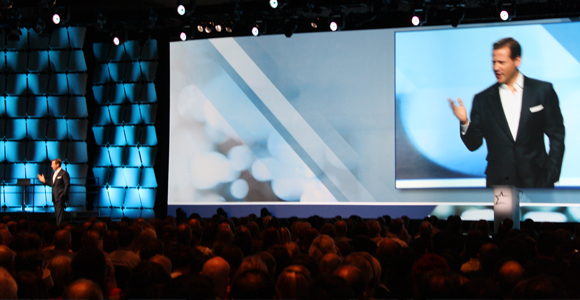 The first hour of the general session included four 12-15 minute "Spark" talks on hearing research and science. Dr. Tom Burns wowed the crowd with a demonstration of SurfLink 1.5, which significantly reduces background noise, allowing hearing aid wearers to talk on the phone anytime, anywhere and with anyone.
Next, Vice President of Research Brent Edwards spoke about using design research to think about new customer groups. Edwards discussed the emerging popularity of wearable technology and reminded attendees that the hearing aid, not Google Glass, was the first accepted wearable technology in society. Edwards emphasized that hearing aid providers can take advantage of this growing popularity and that Starkey is here to help. Edwards ended by asking the audience: "How are you going to use the advances in new technology to help your customers? Are you going to change with the future?"
Starkey President Jerry Ruzicka and Starkey Senior Software Product Manager Chris Howes later discussed some exciting new technologies that Starkey is set to debut in 2014. Stay tuned for more details on some of these amazing products!
After some insightful "Spark" talks, Ruzicka moderated an engaging panel discussion with Brent Edwards, Dave Fabry, Tim Trine and Karsten Jensen for further discussion on hearing technology. This engaging session touched on various new technologies of what is to come from Starkey and included audience participation via Twitter.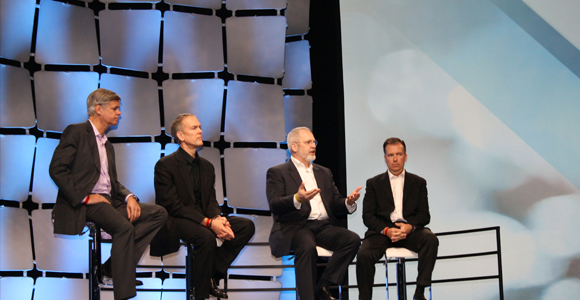 To end the morning session, business legend Donald Trump shared his insights on success in the business world with attendees. Some highlights from the speech:
Passion
Trump discussed the important role that passion plays in success. "When you love what you do, you don't really have to work so hard because you don't consider it work," said Trump.
Focus
Focus also played an important role in Trump's success in the business world. Trump recalled a time in his life in the early 1990s when he got too caught up in his own success and ultimately lost focus of what made him successful. "I refocused like a laser," Trump recalled.
Don't Quit
Great leaders never quit, even when the odds are stacked against them. Trump mentioned several of his business school classmates who were brilliant people but didn't find success because they quit when things got difficult. "The harder you work, the luckier you get," said Trump. "Don't ever quit."
Trump later took questions from audience on Twitter. Some of the highlights included:
Q. What is the number one trait you look for in employees?
A. Loyalty
Q. How do you define success?
A. I don't define success purely by money. I find the most successful people are happy with great families.
Q. What advice do you give to small business owners across the country?
A. Know your products, don't quit, take risks when necessary.
Q. Who do you admire?
A. My father Fred Trump was the best role model I could ask for. He led by doing and was always happy.
The afternoon elective sessions consisted of 13 classes that focused on research and hearing science. Attendees had the option of attending up to 3 of these classes. Below are some highlights from a few.
Attendees learned more about the advantages and disadvantages of the three most popular wireless protocols during the elective session "Limitless Wireless Connectivity: What Can You Expect in 2014?" During this session, Senior Director of Education and Training Sara Burdak, Au.D., and Kyle Acker Au.D., Manager of Education and Training discussed wireless hearing aid technologies and detailed the many Starkey wireless products currently available for patients, including SurfLink Mobile. Attendees also learned more exciting new wireless technologies in the Starkey product pipeline that will appeal and benefit a new generation of hearing aid wearers.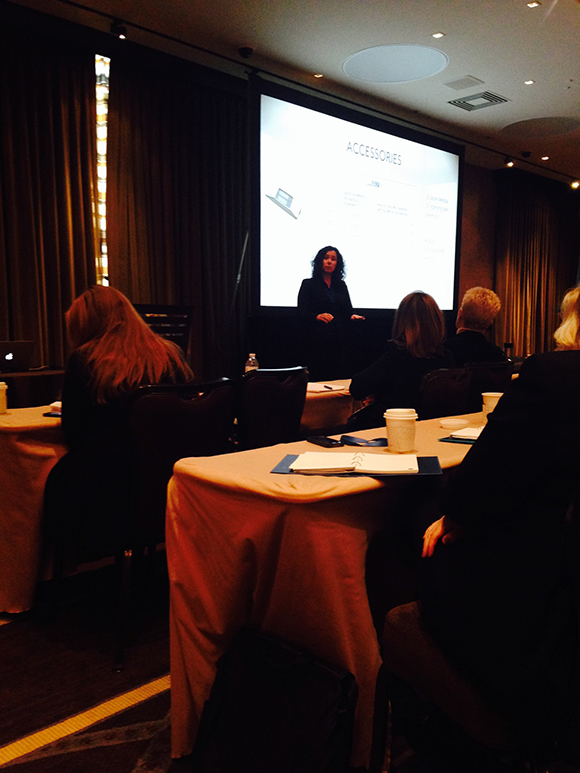 In "Connecting Technology to Both Patients and Professionals" attendees learned about the important role that technology will play in the future for both the patient and the hearing aid professional. Laura Woodworth, Au.D., noted the rapid growth of smartphone use by people over the age of 65 as they continue to embrace technology in order to communicate with their families. "We have to adapt, adopt, and move forward to this trend," noted Woodworth. Later in this session, Harvey Abrams, Ph.D., emphasized the important role that technology can play for hearing care providers as they attempt to gain patient satisfaction or "delight." "The path of patient delight is paved with the continual connection between provider and patient," said Abrams. One way Abrams said attendees could gain customer delight is to encourage the use of hearing games and apps which empower the patient and allow them to manage hearing health on their own. Research has shown this has led to a dramatic decrease in hearing aid return rates.
In "The Initial Consultation – It All Starts Here," Dr. Bill Vass reminded attendees about the important little things that provide exceptional patient care. A veteran of the hearing aid industry with more than 30 years experience, he was the first audiologist Jerry Ruzicka hired at Starkey. Dr. Vass broke down the consultation into 3 basic categories: Pre-Consultation, Consultation, and Recommendation. According to Dr. Vass, "real industry growth needs to come from new patients." This means first impressions are critical. Control your image in the marketplace. How do you communicate your brand with your own staff? With referring professionals? Once a patient is in the consultation, Vass told attendees to consider and recognize the emotional stages patients may be experiencing. "Give your patient confidence and remove false perceptions through providing genuine care," noted Vass. Finally, "learn from your successes AND failures – whatever the outcome." Be confident. Build trust. Practice consistency and above all, don't forget to smile!
The day ended with a keynote speech on the "Art of Changing Hearts, Minds, and Actions" from noted author, speaker and business advisor Guy Kawasaki. In his entertaining talk, Kawasaki offered Expo attendees 10 tips to enhance customers.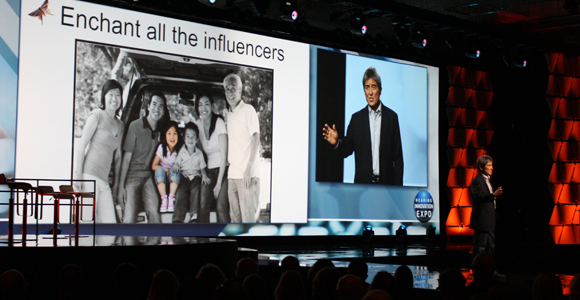 1. Achieve Likability
Your customers need to like you so always act nice. Smile, and always have a good handshake. Kawasaki shared an interesting story about how Sir Richard Branson "achieved likability" with Kawasaki by getting down and polishing his shoes so he would fly Branson's Virgin Airlines.
2. Achieve Trustworthiness
Trust your customers first and they will learn to trust you. To demonstrate how to earn trust, Kawasaki encouraged attendees to "be a baker, not an eater." A baker sees a pie and wants to make more for others while an "eater" simply looks out for himself and wants to eat. Become a baker and do things for other people. If you do things for people, they will thank you later by becoming a customer.
3. Perfect your product
It's much easier to enchant your customer with a great product. Create something DICEE. Great products are Deep, Intelligent, Complete and Empowering and Elegant.
4. Tell a Story
Share with your customers why you got into the hearing aid industry. Tell a story, plant seeds and use salient points. This will help you connect with people and ultimately earn their trust.
5. Overcome Resistance
Be sure to enchant all the influencers, including spouses and kids. This especially applies to the hearing care industry as younger generations encourage parents and grandparents to get hearing help.
6. Endure
Tap the power of your brand advocates and loyal customers to earn more customers. Kawasaki shared the story of how the Grateful Dead had a special "taping area" at concerts to encourage people to record concerts and share their music with others. Your passionate customers are your best marketing tool.
7. Present
Great enhancers are great presenters. Learn how to present yourself and services well and customize your introduction and content for your audience. Sell your dream. A hearing aid isn't just a bunch of parts, explain how it will change their life.
8. Use Technology and Reduce the Speed Bumps
Speed bumps reduce the amount of potential customers you might have. Utilize technology to reduce these speed bumps to deliver information and insights fast and frequently. Eat like a bird (from many different sources) and poop like and elephant (spread information widely).
9. Enchant U
In certain situations you may need to drop everything else and get something done. If there is bad news to deliver to a customer, do it as early as possible so time allows for appropriate actions to be taken.
10. Enchant Down
Provide a map for your employees to learn new skills and also allow them the power to make decisions within their areas of expertise. Empower action with your employees. Suck it up - don't ask employees to do something you wouldn't be willing to do yourself.
Day 2 will focus on patient engagement and attendees will learn more about how to treat the new consumer. Make sure to check here for updates throughout the day!