After a remarkable first day that included keynote addresses from Donald Trump and Guy Kawasaki, attendees are geared up for another insightful and inspiring day at the Hearing Innovation Expo. Day 2's focus is on patient engagement and speakers and sessions will focus on how to approach the new consumer to provide better hearing.
Senior VP Brandon Sawalich began Day 2 with welcoming remarks and led the crowd in a spirited rendition of "Happy Birthday" to his brother and Executive Director of Starkey Hearing Foundation, Steven Sawalich.
Randy Schoenborn, owner of New Sound Hearing Aid Centers, provided valuable insights as a longtime hearing aid business owner. The next generation of hearing aid buyers is more comfortable with technology and will expect excellence, Schoenborn explained. However, most people don't know where to turn for hearing help. This provides a huge opportunity for hearing care practices going forward. "We have the opportunity to frame the distribution of better hearing," said Schoenborn. The next generation wants us to be flexible and personable. "We need a confident explanation of why our services are superior, present value for what you do," said Schoenborn.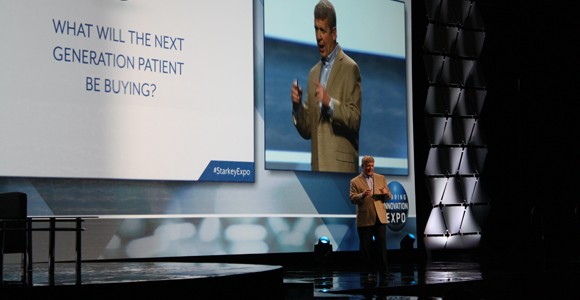 Schoenborn offered attendees 5 tips to consider on how to provide hearing care for the next generation: Re-assess your business, Re-Invest, have a pricing strategy, provide personalized patient care, and measure your success.
"If we are going to move forward, we have to be open to change because change equals opportunity," said Schoenborn.
Starkey Hearing Technologies' Director of Consumer and Digital Marketing Carol Olson discussed the various stages of the hearing loss journey and how attendees can most effectively walk patients through these stages in her speech, "New Consumers, New Opportunities." "We need to help patients through their hearing journey and help them relieve doubt," said Olson. Olson provided an excellent analysis of different generational age groups and touched on the most impactful way to target each group in a way that they will respond.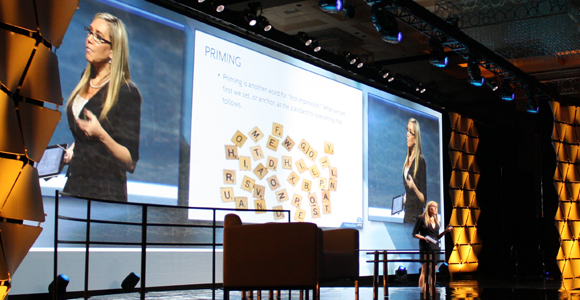 Next, author Tonya Reiman discussed the importance of patient body language, building trust with patients and the power of words in her talk on nonverbal communication. "Words convey information, body language conveys emotion," Reiman told attendees. "Talk less, listen more, and follow the patient's lead," she added.
Reiman took the crowd through actual patient interaction scenarios and provided useful insights to attendees on how to gain trust and communicate more effectively as they guide patients through the journey to better hearing. "Building trust and credibility are key to interacting with your patients," said Reiman.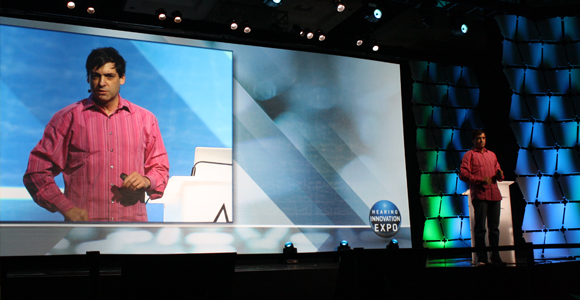 Noted author and behavioral economics expert Dan Ariely wrapped up the morning session with an insightful speech on predicable irrational behavior and the intricacies of human decision making.
Human behavior by nature is passive, Ariely explained. By creating an environment that promotes active or "opt-in" choices, hearing care providers can help prompt patient action. Ariely explained this more clearly by sharing the Jam theory, in which consumers who were presented with 6 different kinds of jam were more likely to purchase than those with 24 different options. By providing fewer but more relevant options attendees can create an environment that promotes easier decision making for the patient.
"If people are irrational in predictable ways, we can help them," said Ariely. "You need to help people think about the problem in the right way and by helping them do this we can help them make the best decision."
Friday's afternoon elective sessions consisted of 13 classes that focused on patient engagement. Attendees had the option of attending up to 3 classes. Below are some highlights from some of these:
In "Make Your Digital Marketing Remarkable," attendees were provided tips on how to provide great digital marketing content. Starkey Hearing Technologies staff took a deeper dive into digital marketing tools including Twitter, Facebook and local Search Engine Optimization and provided context on why these tools are important for obtaining and providing for the next generation hearing aid customer.
Director of Retail Marketing Mike Dalton encouraged attendees to attempt to define their brand in one word during his session, "Emotion in Your Brand: Building Great on the Back of Good." Dalton challenged students to reassess their brand to make sure it correctly aligns with their identity. Students were also taught the 3 most important elements of a brand: personality, telling a story, and consistency.
President Bill Clinton brought Day 2 to an end with an inspirational message on global cooperation and empowering people. "Nobody acting alone in a complicated world makes as good of decisions as a diverse group working together," said Clinton. The former President cited Starkey Hearing Foundation's partnership with the Global Clinton Initiative as an example possible by the network of collaboration. Clinton told the crowd that when he challenged Bill Austin to provide 100,000 hearing aids across the world to those in need, Mr. Austin answered the call and gave away 160,000.
Clinton reminded attendees that they hold the power to make the world a better place by empowering patients with better hearing. "Creating a network of cooperation and empowering people are the most important things we can do," said Clinton. "We all play a role in taking care of our world ... you don't have to be a millionaire to help."