During the recent Hearing Innovation Expo, I had the pleasure of working in the Social Media Impact Lounge. Here, I helped attendees set up social media accounts, explained how to use social tools, and most importantly, discussed why it was important to utilize social media for their hearing care practices.
Many attendees I spoke with had questions about how other hearing care providers were using social media to interact with their customers and promote their businesses. In our new "Social Media Scene" series, I thought it would be useful to highlight some practices we think are using social media in smart and unique ways.
Our first interview is with Dr. D'Anne Rudden of Longmont Hearing and Tinnitus Center. Dr. Rudden is a board certified audiologist has been practicing audiology since 1994. If you were at the Expo you may have noticed her flurry of fun and informative tweets, which quickly escalated her to the top of the Expo Twitter leaderboard. In our interview, we discuss Dr. Rudden's interest in social media and some best practices and advice she offers for fellow hearing care providers.
Q. How long have you been using social media for your practice?
Dr. Rudden: I started our business Facebook page in June 2011, but I have been actively participating in social media since 2008. I started out creating a Facebook business page and trying to make a post once a week. Facebook was the entry point for me as I think it is for most of the "over 30" crowd. I am proud to say that we can now be found "virtually" anywhere - Facebook, Twitter, Google+, YouTube, Instagram, LinkedIn Pinterest and Yelp.
Q. How often do you post on your social media sites?
Dr. Rudden: I have committed to posting at least once a day across all of the different platforms. Sometimes if I see something interesting I'll post multiple times depending on how busy my day becomes. Luckily, we have our social media sites linked together so I make one post and it's done!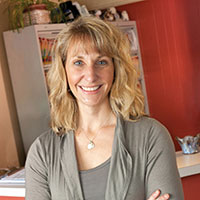 Q. What type of content do you use?
Dr. Rudden: Ear and hearing related content, of course! I like to vary the content every day. Some days I will choose to link to a published article and write a couple of sentences on it to encourage people to explore deeper. Other days I'll post "did you know" facts, relevant quotes or witty ear and hearing-related cartoons. Often, I try to stay consistent with other well-known social media tags like "#TBT" (Throwback Thursday), etc. It makes it fun. We also use it to promote events that we are having in the office or community events we are included in. Ultimately, the content, in my opinion, should inform and engage the community that you are creating. You want people to "join the conversation" with you, not just have information thrown at them.
Q. What social media tool do you find the most useful for your business?
Dr. Rudden: I have tried a number of applications designed to manage social networks, like Buffer and HootSuite. These are designed to help you to schedule posts and distribute them to all the social media sites. I know people in other businesses who use these services regularly, but I haven't done it much. Right now, the pages are linked and I make the posts myself. For people who want it to be more automated, this might work better.
Q: What type of posts do you find typically gets the most user engagement?
Dr. Rudden: I find that people like to see pictures or videos. The visual element is a lot more enticing than just written words most of the time. The posts that get the most traction usually have pictures of me or someone on the office staff doing something – holding up hearing protection, showing the video otoscope or even out and about in town doing something relevant.
Q. Tell me about a Facebook post or tweet that seemed to really resonate with your fans or followers.
Dr. Rudden: Recently, we offered free orange earplugs (donated to us by the Listen Carefully folks at Starkey Hearing Foundation) leading up to the Super Bowl. This is Denver Broncos country so everywhere you looked and across all media channels, you saw #UnitedInOrange. We had been posting for the two weeks leading up the game about noise exposure and hearing loss and lots of other fun facts, tagging our posts #UnitedInOrange. There were a fair number of "likes" and "retweets" but when I took a picture of my patient care coordinator holding a basket of the plugs with the tagline "Looky what Alicia has for you", we got a whole other level of engagement – comments, reposts and even a Twitter follow from a local reporter. I figure it was relevant, personal and something that encouraged the virtual community to share.
Q: What advice do you for hearing care practices that may be struggling with how to use social media for their business?
Dr. Rudden: Jump in! Start somewhere and commit. Like anything else, it takes a clear intention and the desire to be involved. Keep making the connections. I truly believe that it is a powerful tool for any practice!
Make sure to "Like" Longmont Hearing and Tinnitus Center on Facebook and follow them on Twitter!