Today's blog post highlights Shari Ascher, who won a pair of Halo Made for iPhone hearing aids after participating in a photo contest on our Facebook page earlier this year.
Tell us a little bit about yourself, your family and what you enjoy doing in your spare time.
I have been married for over 23 years to my husband Neil. I am a mother of two young men, Marty (20) and Jake (17). For the past 11 years I have worked at WFUV-FM, the coolest public radio station in New York, as the Corporate Underwriting Sales Director. I am an avid exercise enthusiast and particularly enjoy Pilates. I love to cook (and eat) and spend a big part of my day planning dinners. Cooking is my artistic expression!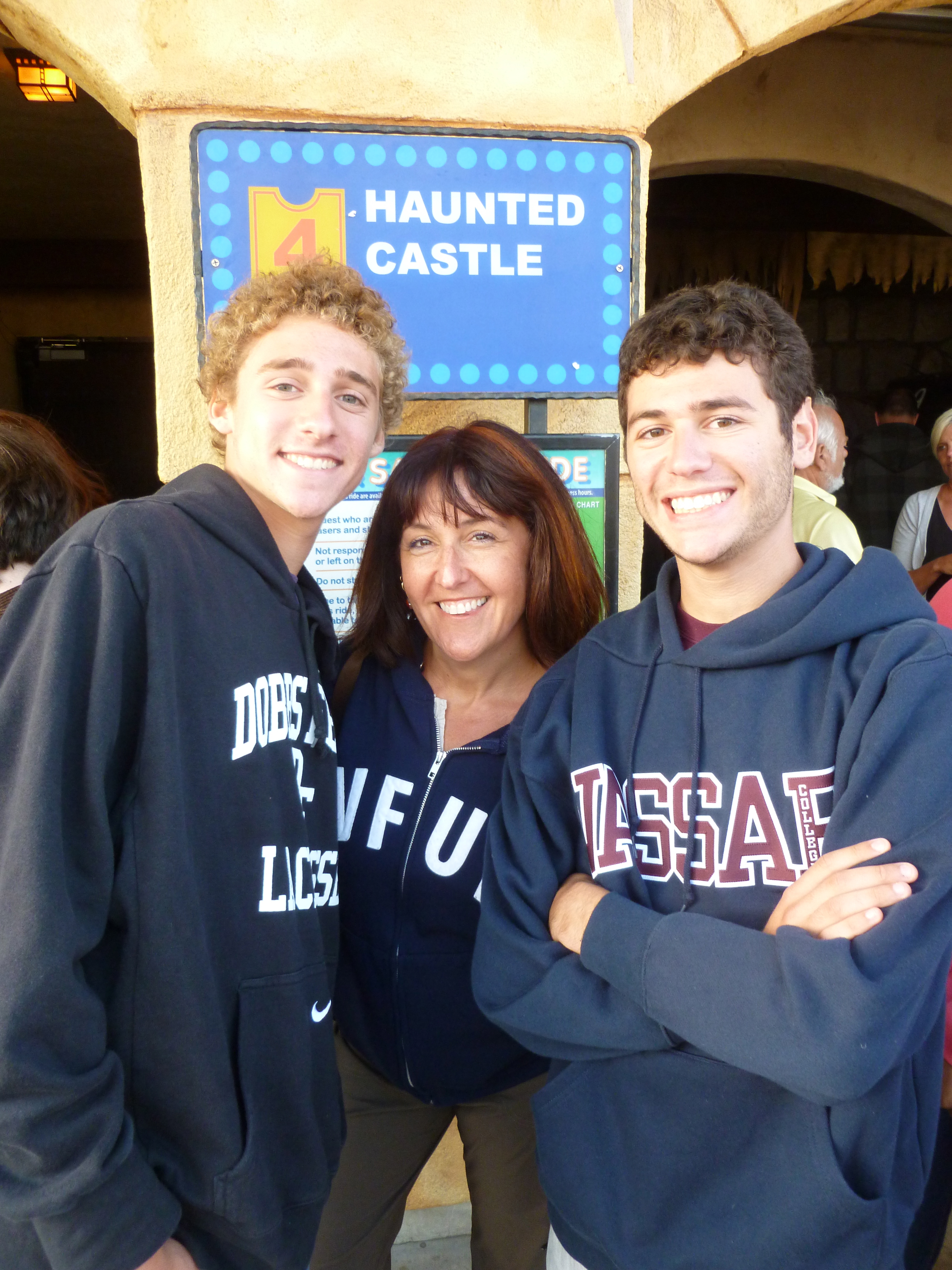 What caused you to realize you may have hearing loss and what compelled you to initially go in for a hearing test?
I have had hearing loss my entire life, but it wasn't diagnosed until I was in sixth grade. I used to watch all the other kids take the hearing test being given at school and try to memorize the patterns of when they were raising their hands to say they heard the beep. In sixth grade, I wasn't paying attention and they finally "caught me." I was told at age 12 that I could benefit from a hearing aid and I refused. I graduated from high school at the top of my class at the age of 16 and went off to Brandeis University where I double majored in English literature and sociology. Once again I felt like I "got away with it." It wasn't until after I was married that an ENT once again told me that I could benefit from a hearing aid as I had a profound loss in my right ear. Once again, I wasn't ready. A few years ago, I was really bothered by tinnitus and after going to several doctors, having tons of tests and MRIs etc., I finally agreed because I was told that putting a hearing aid on my "good ear" could help turn down the tinnitus in my "bad ear." It really helped and here we are!
How does hearing loss affect your life?
I like to think if I could hear better, I could sing better – probably not true. I am an awful singer! It became increasingly frustrating to feel like I was missing something or to have to say, "Excuse me?" all the time. I was always nervous that my kids would be hurt or crying and I wouldn't hear it. But miraculously, I can hear them a mile away.
How did you hear about Starkey and what made you decide to enter the contest?
I read an article in The New York Times about an iPhone-controlled hearing aid and it sounded amazing. I called my audiologist and she was the one who suggested I check out Starkey. She told me I should check out the demo online and do my own research. I am at a computer all day and I research EVERYTHING from vacations, to restaurants, to music to TV shows, to recipes. So I did. I am also very active on Facebook and I saw that you had a contest and I figured, why not. I was THRILLED to win these. My audiologist Julie O'Shea was almost even more excited than I was. I really feel like it was meant to be!
Tell us about your experience being fitted with the Halo hearing aids.
It has been a little bit of a process due to my unusual hearing loss; it's so lopsided. It really took some creativity and patience. I have a great relationship with Julie and her team and they are incredibly supportive and available to me. They are practically invisible and more comfortable than what I previously wore.
What's your favorite feature of the Halo hearing and TruLink iPhone app so far?
I do not go anywhere without my iPhone so having an app for the hearing aids is fantastic. I love that I can geotag places that I go to habitually like work, the supermarket, home, restaurants etc.
What words of wisdom or advice would you give to someone suffering from hearing loss?
IT is SO much more common than you think. There is a big spectrum of hearing loss and many different ways to help. You have to admit it to yourself and try to have the wisdom, patience and vocabulary to explain it to others. I really liked the book "Shouting Won't Help" by Katherine Bouton. Her journey was not the exact same as mine, but there were enough similarities to make me feel like I had a common bond with others and I was not in this alone. My husband has been wonderful through this journey and has supported my choices throughout, and that has been very important to me.
Anything else you want to add?
I didn't get a hearing aid at 12, 22, 30 or even 40 because I thought it would make me feel "handicapped" or enfeebled and I was embarrassed and vain. But the reality is that getting the hearing aids actually made me feel more empowered. Now I can hear the music playing in the background in stores, I can share intimate conversations, I can hear the wind in the trees, I can understand the TV. Getting a hearing aid was the BEST decision I have made in a long time. Winning these was AMAZING and rather than try to hide them, I tell everyone about them. I have become a hearing aid evangelist :)