David Faust is a 37-year veteran educator and football coach. He has spent the last number of years in District 197, which includes West St. Paul, Mendota Heights, and Eagan, Minnesota. Faust has coached at both the high school and college level. Currently, he's putting the offense through their paces at Carleton College in Northfield, Minnesota and teaching physical education at Henry Sibley High School.
Faust likes to joke that as the "third oldest guy on the offensive side of the ball [at Carleton]," he's still pretty young! His goal is to teach and coach for another three years, but he came close to stepping away from the sideline and the career he loves due to debilitating tinnitus. He explained, "It got to the point that teaching was insufferable to me. The tinnitus was just too loud, especially in the gymnasium. Being around loud noises seems to make my tinnitus worse. It gets really bad when we're up in the box for football games next to the speakers."
When asked to describe how the tinnitus sounds, he explained that the tinnitus he experiences fluctuates without warning between a loud train whistle, angry cicadas and happy cicadas. The sounds can change frequencies and speeds, sometimes the modulations are slow and other times they are fast. The tinnitus is the most bothersome for him in quiet environments – falling asleep was especially challenging.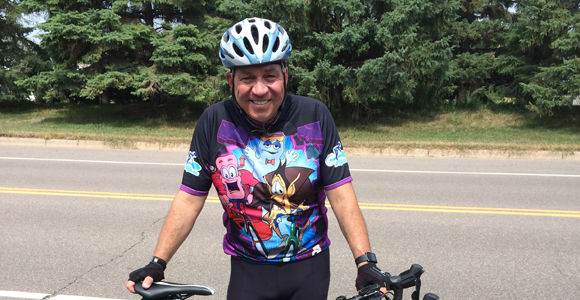 Luckily for his community, students and football team, Faust decided to seek treatment for his tinnitus before walking away from the profession he loves. He sought advice from a local audiologist and tried a couple of different combination devices before he found the relief he was looking for. Combination tinnitus devices take the focus off tinnitus by providing sound therapy while prescriptively correcting hearing loss when needed.
"The competitive products I tried were much bigger and operated using bells and chimes. I would hear a low battery chime every half hour until I changed the batteries and that was annoying," he said. "The Starkey Xino devices really help improve my quality of life and my teaching.
During the day it is really helpful. When I was first fit I was wearing my devices 24 hours a day, even sleeping with them in! Now I take them out at night and sleep with a noise machine and MPR [Minnesota Public Radio] on."
Besides being a teacher and coach, Faust is an avid bicyclist and traveler. He's put on thousands of miles on the ground and in the air, all of which is easier with his tinnitus under control.
Xino is designed to mask tinnitus. It can be customized and fine-tuned to relieve the unique and irritating sounds tinnitus sufferers hear. Xino can also be programmed to treat and correct hearing loss. Find out more about Xino Tinnitus or call to find a hearing healthcare provider near you.