(Julia, far left)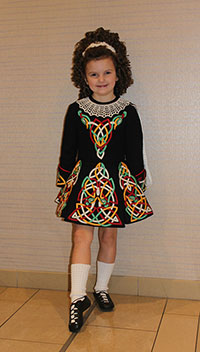 Julia Watychowicz, 7, is an accomplished Irish dancer and enjoys playing tennis. She's even a budding philanthropist – last summer she and her sister Emma, 10, hosted a free neighborhood lemonade stand with all donations going to Starkey Hearing Foundation! She was diagnosed with hearing loss in preschool and currently wears Starkey Xino hearing aids.
Julia's parents, Mark and Christy, are active participants in our Facebook community and we've enjoyed following Julia's hearing journey as they've shared photos of her participating in dance competitions, going to Disney World and to the American Girl store accompanied by her doll (who has her own doll hearing aids, of course!).
We asked Mark and Christy to share their perspective on Julia's hearing loss, how they support her, and how they help others understand her needs. Have a question for them, or something to add? Post it in the comments below!
When and how did you discover Julia had hearing loss?
Julia's preschool teacher gingerly pointed out that she thought there might be a problem based upon her observation in class. We took her to the pediatrician who gave her the all clear! A month later during the routine hearing screening at school, we got a letter showing she failed the screening and needed to get evaluated. This time we took her to an audiologist, and her severe hearing loss was confirmed.
What does she like best about her hearing aids?
She likes that they help her hear, of course! These are her second set. It did not go well with the first set. Her first set were a premium model from a different company. Despite numerous attempts to re-program, they were very uncomfortable for Julia. Plus they were bigger and more noticeable.
A few months after Julia's diagnosis, Bill Austin and Bill Noel met with Julia at Starkey. Bill Noel looked at Julia's challenging audiogram and said, "No problem." Bill Austin told us that Starkey's goal was for Julia to hear just as well as everyone else. Side by side, Bill and Bill carefully crafted amazing "earbuds" for Julia. We were in awe. Their work was seemingly so complex, yet they made it seem so effortless. Julia loves that the Xino devices are tiny, they match her hair color and the molds are clear/transparent. She likes that most people do not notice that she is wearing them. Most important though, the sound quality and programming by audiologist Justine Hammer allow her to hear the best that she can.
What everyday challenges does Julia face?
Julia does face challenges, but who doesn't? We all have disabilities in varying degrees. It is how we choose to face them that defines you.
It's hard for Julia to hear things from a distance. For instance, if she's trying to find us in the house – we can't simply say, "I'm in the basement," because she's not hearing it from the 1st floor.
It's also challenging to hear in noisy environments. For instance, her tennis lessons are in a large metal building housing three tennis courts – the sound acoustics are not good! She learns to position herself closer in order to hear the coaches better, her coaches know her situation and make sure they look at her, and the coaches will also demonstrate their directions as well.
We have worked with the local police and fire departments to discuss life safety issues. They have flagged our house and her school so that in the event of an emergency, they know there is a child with a hearing loss that could be in the building. They have also offered to provide special smoke detectors for hearing-impaired residents with strong strobe lights, which were obtained through a grant.
We've also had to adapt for headphone activities – she can't use buds or the conventional flat-foam headphones. We purchased a good pair of around-the-ear headphones, which she's able to use with her hearing aids in – and the superior sound quality makes it less necessary to turn up the volume.
How does Julia feel about wearing her hearing aids?
We are so fortunate that Julia embraced hearing aids from the start. The day she got the aids, she walked into dance class and shared with her friends that "These will help me hear you better!"
Julia's first set of hearing aids caused her to be bothered whenever we walked into a noisy environment such as a shopping mall or restaurant. The new Starkey hearing aids made a huge difference, immediately!
What has your experience been as parents?
It's been a whirlwind of emotions. During her younger years, our primary focus is to make sure she has an equal playing field. At Julia's age, we are her best advocate in that we prepare her as much as we can for her future, we equip her with the best hearing technology and establish lifelong relationships with experts (i.e. Starkey) that will help her along this journey.
How do you help her work through her challenges and encourage her?
Anytime we see something that may have been a challenge due to hearing loss, our minds jump into "how can we fix this?" mode. Whether it's in school, extra-curricular activities, or at home, we want to do whatever we can to minimize her challenges. However, we also know that the most valuable tool that we could give her is to train her to self-advocate. It makes us proud when we see her speak up for herself without assistance.
How do you think Julia's hearing journey will affect her as she gets older?
We hope she can use her situation to make a difference. Julia holds Starkey and "Mr. Austin" in high regard, surely because she appreciates that they were able to fit her with hearing aids that she is comfortable with.
As she gets older, we worry about classes as they become less visual and more auditory, lecture-based. As she gets older, she will need to teach herself to make adjustments that are best suited for her.
How do you address Julia's hearing loss with her teachers, your family and friends?
All of Julia's teachers know she wears hearing aids. We communicate with the school frequently to ensure she has the necessary accommodations. As with her friends, it's as if no one notices her hearing aids. If anyone asks how to communicate with her, we simply tell them to communicate normally; if you face your audience and articulate well from a reasonable distance, then Julia will understand nearly every word.
What advice do you and Julia have for other kids who have hearing loss?
Once you get used to it, it's not a big deal. Embrace this marvel of technology that helps you hear! Don't you dare let it get you down. Truth be told, you will excel at something because of your hearing loss. Treat it as an opportunity to do great things. Don't limit your goals or dreams. Shoot for the sky. Be a pilot; be a police officer; be a rock star; BE PRESIDENT! Don't define yourself as a person with disabilities. Define yourself as a person with abilities.
What advice do you have for parents of children who have hearing loss?
When Julia was diagnosed, we were very emotional. It was hard for us to accept this. Julia's hearing loss seemed to come from nowhere. There were a lot of feelings that were difficult to reconcile. The best advice we got was from another parent. She said that parents will take it harder than the children. That is true. She also said, in time your child will amaze you and you will feel better about it. That is also true. Additionally, get social. Join online groups on Facebook, for instance. You can post your questions and respond/comment on others. If you find your circle of support, you can get through anything.