Got a question about hearing loss or hearing aids? One of our on-staff Starkey audiologists is all ears.
Q: How do I get used to wearing my hearing aids?
A: We sometimes hear from people who just received their first pair of hearing aids, telling us that getting used to wearing them was more challenging than they expected. And they're right – it can be. First of all, overnight, you're hearing sounds you haven't heard in a long time. Secondly, you're hearing things louder and clearer than you have in a while. It's like leaving a dark theater after a matinee and going out into the sunny day – only it's a sensation that can last two to three weeks!
Even just being asked to suddenly wear something on and in your ear for nearly the entire day is a routine and feeling that takes some getting used to.
Adjusting to your first fitting, with amplification or an assistive listening device, can take time – but will be worth it in the end. Below are some tips to help with the process.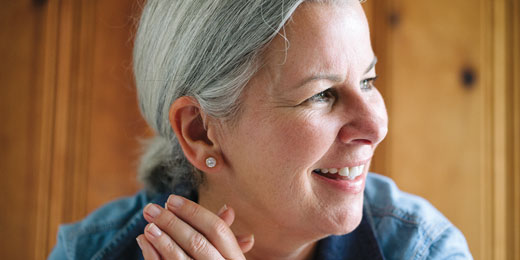 1. Speak up. Work closely with your hearing care professional during your fitting and be honest about any concerns you have regarding the sound quality or care of the hearing aid. The first fitting can be overwhelming, so don't hesitate to ask for clarification on any information you don't understand or adjustments if the devices aren't sounding quite right.
2. Have realistic expectations. Amplification does not mimic eye care solutions — meaning that hearing aids don't restore your hearing back to "20/20" or perfectly normal function. You may still need to use complementary strategies — such as visual cues and preferred seating in noisy places — in order to have the best understanding of speech in various environments.
3. Commit to wearing your new hearing aids every day. The more you use the hearing devices during those first few weeks, the more likely you are to adapt to having them be a part of your life. Wearing the devices in a variety of settings will enable you to have the best feedback on their performance when you visit your hearing care professional for a follow-up visit.
4. Be patient. The adjustment to new hearing aids can take time, and tweaks may be necessary to find the appropriate settings for you, your lifestyle and your hearing. Chances are your hearing loss has come along slowly and some of the sounds you are adjusting to have been muted by your loss over time. It will take some time to interpret these sounds again. But with time and patience, your hearing aids will soon become just another part of your daily routine.
For additional acclimation tips and strategies, visit our Use & Care page and talk to your hearing professional.