Almost everybody has been talking about hearing and hearing technology this year! Forbes, the New York Times, TechRadar, PSFK, and Inc. Magazine are just a few publications that have taken an interest in hearing loss and hearing aids. They're reaching out to people with hearing loss and hearing aids and, in turn, providing greater awareness for (and better understanding of) the impact hearing loss and hearing aids can have. A recent example is this great piece by Prevention Magazine, where nine women share what it's like to live with hearing loss.
Hearable technology also continues to take over the digital marketplace, and as it does, the perception of hearing aids is changing. And, our Halo 2 Made for iPhone hearing aids are leading the way! Mother Nature Network's Lloyd Alter recently wrote about them in his article, "Newest hearables will change the way people think about hearing aids." He wrote: "Right now, only a small fraction of the people who need hearing aids get them … people think they make them look old. But once people start realizing that they do so much more than just help you hear, I suspect that stigma will disappear. People will think they look wired and connected … now, even when I'm alone in my home office and don't need to wear them for hearing, I'm putting the Halo 2s on because they have become my default link to the audible internet. They're not a stigma to me; they're a super power."
All this attention on new hearable technology and the impact hearing loss has on quality of life points to 2017 as being the "Year of the Ear." To celebrate, we have six 2017 hearing health resolutions for you to keep in mind!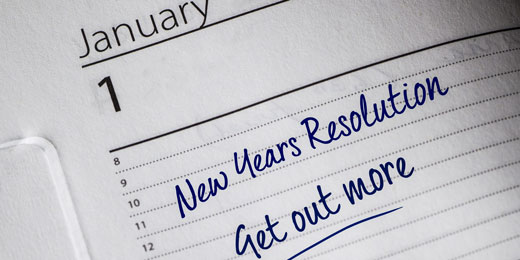 1. Make your hearing part of your annual healthcare routine. Hearing loss can sometimes be hard to identify. It can develop gradually overtime and your body may begin to cope and adjust. The best way to stay on top of changes with your hearing is to add an annual hearing test to your healthcare routine! Most hearing care clinics provide them free. To find a practice near you, click here. Don't feel like leaving home? Take our free, online hearing test!
2. Educate yourself with comedy! Learning about hearing loss can be overwhelming, and we understand. That's why we sometimes like to lighten this serious topic with cartoons (like this, this and this) and this animated video — to help make learning about hearing loss and hearing aids fun.

3. Protect your ears now to avoid hearing loss later. Noise-induced hearing loss is on the rise around the world, especially for those aged 12 to 35 who use personal listening devices. The World Health Organization surveyed individuals in this age range and found that 50 percent listened to the devices at unsafe levels. Moreover, the National Institute on Deafness and Other Communication Disorders found that approximately 26 million Americans have hearing loss due to exposure to noise at work or in leisure activities. For some smart protection tips, go here.
4. Know your options for treating your hearing loss. Hearing aid technology has come a long way. Make sure you take the time to explore the new technologies before purchasing. You may be surprised at what you find, and ultimately, you'll feel more confident in discussing your options with your hearing professional. For example, if you have an iPhone you'll probably want the popular Halo 2 hearing aids. If you love music and want more hearing aid style options, consider Muse. Muse has a unique music memory that can be customized just for you, and Muse comes in custom and standard styles. Want something tiny and sleek? Consider our wireless, invisible-fit SoundLens Synergy hearing aids!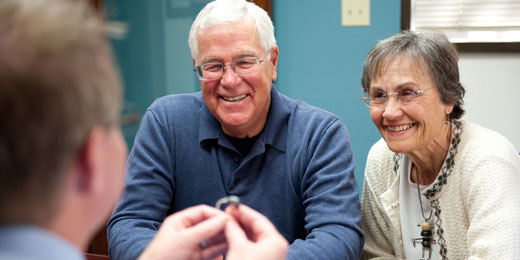 5. Don't be afraid to ask questions. Your hearing is unique, like a fingerprint. Don't be afraid to ask us and your hearing professional questions about hearing loss, tinnitus, hearing technology products, etc. We are here to help you make the most informed decision possible. We even make it easy by having an email for you to send questions to: blog@starkey.com! And, we publish the most popular questions in our All Ears blog (like here, here and here).
6. Find better hearing success with all the tools available to you. It can take time to adjust to hearing aids, especially if you are new to them. That's why we encourage you to check out these success tools below:
Pro Tips, written by actual hearing aid users, help you find humor and happiness with your hearing aids. Check out our favorites here, here and here.
Tech Tips, written with our Technical Support Team manager, Erik, give you simple how-to guides for using your products (like this or this) and also step-by-step solutions for common technical questions (like this).
TruLink Instruction videos walk those of you with Halo or Halo 2 hearing aids through every-single thing you can do with your hearing aids, using step-by-step videos that are hearing loss friendly!
Your hearing health is an important part of your overall health and wellness. Make 2017 the Year of the Ear and start your hearing health routine today!