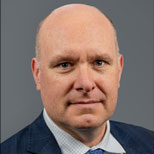 Jeff Geigel
Executive Vice President of International Retail
Jeff Geigel has over 20 years of experience in the hearing healthcare industry and a record of success building and leading dynamic, high-growth organizations and developing the teams within them.
In his role as Executive Vice President of International Retail, Jeff Geigel is responsible for leading Starkey's non-US retail clinics and teams. He collaborates with these global teams to identify and execute on market growth strategies, investment opportunities, patient experience and clinic operations improvements, and team development. Under his leadership, Starkey's retail business achieves sustainable, profitable growth while delivering a world-class patient experience.
Prior to Starkey Hearing Technologies, Jeff Geigel held president, chief executive and many other executive-level positions within retail and wholesale hearing healthcare organizations. Jeff Geigel's extensive experience in, and knowledge of, retail sales and operations, team development and strategic planning enables him to successfully lead Starkey's global retail teams to be market growth leaders.
Jeff Geigel has a bachelor's degree in social sciences from the University of Ottawa and holds multiple financial certifications.