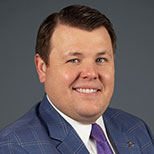 Michael Scholl
Chief Compliance Officer
As Chief Compliance Officer, Michael Scholl provides leadership for the assessment, planning, development, implementation, and evaluation of the enterprise global compliance program. In this role, he works closely with teams across the organization to identify, mitigate, and remediate risk. In addition, Michael Scholl serves as the Director of Government and Community Relations where he leads the strategy and operations behind Starkey's state, federal, and global legislative and regulatory priorities, as well as efforts to build partnerships within our local community and beyond.
Michael Scholl brings more than 15 years of leadership in both the private and public sector. Prior to joining Starkey, he led a Twin Cities-based consulting firm that specialized in providing strategic advice in the areas of coalition building, regulatory compliance, lobbying, government relations, message development, and paid media.
Michael Scholl received his B.A. in political science from Denison University.