Throughout the past several years, Expo attendees have been constantly reminded about the importance that marketing tools like social media will play in their attempts to reach the ever-changing hearing aid consumer.
At the 2014 Hearing Innovation Expo, attendees had the opportunity to learn more about new digital tools at the Social Media Impact Lounge. The area featured dedicated computer and iPad stations to help attendees get setup on Twitter, Facebook and other social media platforms. It was estimated that more than 200 new Twitter accounts were set up in this area during the 4-day Expo.
Starkey Hearing Technologies staff members were also busy answering attendees' questions about how to most effectively leverage these tools for small business.
The Social Media Impact Lounge earned large traffic throughout the Expo as attendees eagerly looked at the giant flat-screen TVs that displayed social statistics from the event to see if they made the "big board."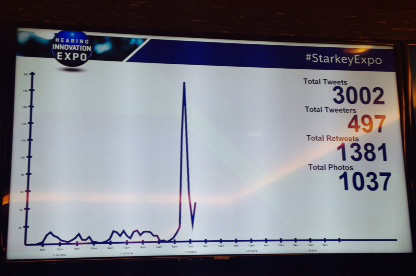 Take a look at some of the impressive social media statistics from the Hearing Innovation Expo:
Total Tweets: 9,920
Total Tweeters: 795
Total Retweets: 4,448
Total Twitter photos: 2,889
Total Instagram photos: 178
Thanks to all the attendees who made the Hearing Innovation Expo a social media success!