Today on our blog, we're excited to share Frankie's story. Ready to start first grade, he was recently fit with a new Starkey Behind-the-Ear hearing aid. His mom sat down with us to talk about his hearing journey.
Frankie's Mom: We were told that our son did not pass his hearing screening at the hospital when he was just a few days old. The doctors assured us that it was normal not to pass, explaining he may still have fluid in his ears from the placenta. We went back for follow-up testing when he was 3 months old. The test confirmed that he did have hearing loss in his left ear. In fact, it was moderately severe.
I remember going to that follow-up appointment feeling optimistic, but I left a crying mess. Learning Frankie had moderately severe hearing loss felt like someone punched me in the stomach. I worried that he would be teased for wearing a hearing aid and that he would fall behind his peers academically. I worried about him feeling different than his twin brother. I remember thinking that I had done something to cause his hearing loss during my pregnancy. I started to blame myself. I was just really scared.
When Frankie was almost four months old, we took him to the Mayo Clinic in Rochester, Minnesota for further diagnostic testing. After imaging, his doctors confirmed he had Large Aqua Duct Syndrome, which affected the hearing in his left ear. The doctor said this condition usually presents itself with hearing loss in both ears. We felt fortunate that in Frankie's case, Large Aqua Duct Syndrome only effected the hearing in his left ear.
SHT: Tell us a little bit about his first hearing aid fitting.
Frankie's Mom: You can see [below] that my husband chose MN Vikings colors for his little guy. In the picture, he is working with the occupational therapist through our school district. The therapist would bring different toys and tools to help Frankie progress in areas that would help his development continue. I really feel that getting him fit at a young age helped him accept his hearing loss and normalized wearing a hearing aid for him.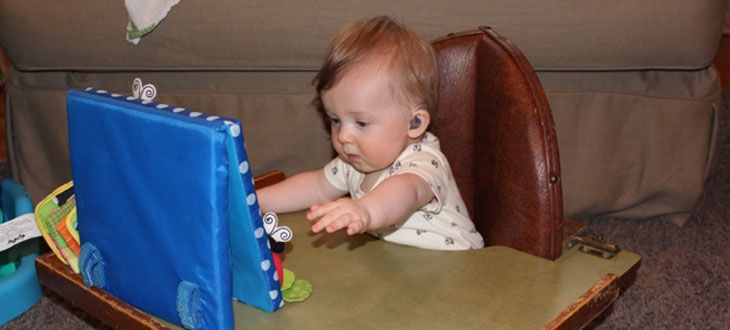 Now, when Frankie needs a new hearing aid, he looks forward to the fitting because he loves to pick the color of his ear mold. I love watching him, and it's not always the color I would choose, but I make him feel like it was the best choice in the world.
SHT: What advice would you give other parents pursuing hearing healthcare for their child?
Frankie's Mom: It is such a shock to hear a diagnosis that your child has hearing loss. For one, it opens up the fear of the unknown. And two, you just want to fix everything for these little people that you love so unconditionally. For me, timing was everything: I really had to wrap my brain around the reality. Once I did, it was smooth sailing.
Find a professional that gels well with your child. And before they start school, call your school district to see if they have professionals set aside to help your child. Then, just take one day at a time. There are amazing books about hearing loss at your public library that can teach your child to be advocates for themselves. Also, there are support groups for parents who are in the same boat.
I think the sooner you treat the hearing loss, the sooner it becomes "their normal" and they learn to advocate for themselves. Also, we were told it is very important for the nerves in the ear to be stimulated, so the sooner your child is fit the better.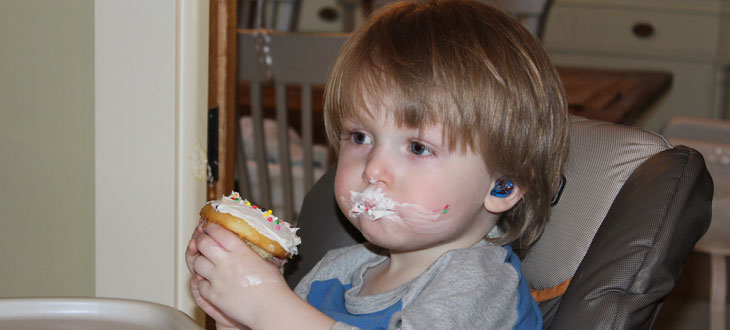 SHT: What do Frankie's friends think about his hearing aid?
Frankie's Mom: The deaf and hard-of-hearing teacher in his school district gave Frankie's kindergarten teacher a book about hearing loss to read to the class. The teacher said it was the most attentive the kids had been all year! They were so eager to hear about this super cool device that is in Frankie's ear, and learn all about it, what it is and what it does. Frankie felt pretty cool after that.
When his classmates want to touch his hearing aid, he knows to tell them, "You can look, but I am the only one who can touch it." He understands that his hearing loss is something that he will have for the rest of his life, which is hard to comprehend at six years of age. When kids at school ask, "why do you have that in your ear?" Frankie says, "My ear needs extra help to hear."
SHT: Do you talk about your son's hearing loss openly or do most people not notice his hearing aid?
Frankie's Mom: We are so open about talking about his hearing loss because I think the vulnerable areas of your life provide the most connections with others. Frankie's support team is so good at teaching him to advocate for himself. For example, in school, Frankie gets to sit right next to the teacher in circle time, with his good ear facing the teacher. He feels SO special because of this, and knows that is his seat. His twin brother has had huge fits about wanting to wear a hearing aid because he thinks it's so cool.
Frankie loves to build with his Magformers and Legos. From an early age, this has always been a passion for him and he makes the most amazing creations, usually all from his imagination. He loves to play soccer, t-ball, skate and swim. I always make sure I tell the coaches about his hearing loss so they are aware that they might need to speak louder or make direct eye contact with him.
In school, he has been great at wearing the hearing aid, but when he is done for the day or needs a break, I let him take it out. We make sure to tell him he always needs to hand it to us right away, so we can keep it in a special place when he is not using it.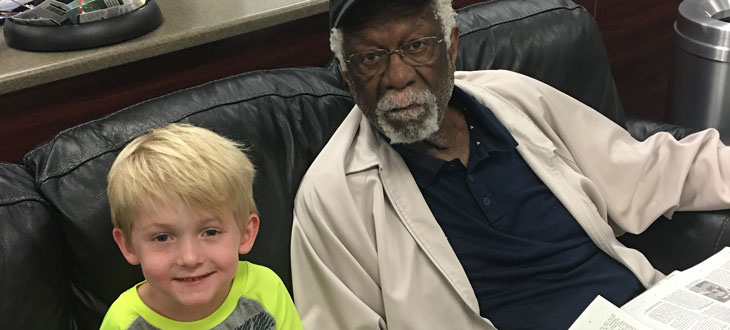 SHT: Tell us about his recent fitting with Starkey hearing aids
Frankie's Mom: His audiologist recommended that we try a new hearing aid, made by a different manufacturer. She tested Frankie's hearing with a few different brands to see which one would work best for Frankie. It was important for us to find a hearing aid that helped him understand speech in his aided ear, because his word recognition in that ear is only eight percent.
He understood speech the best with the Starkey hearing aid. His audiologist allowed us to try it for a few months. After the trial period, she tested his understanding of words with the Starkey hearing aid and he improved to 56%! We couldn't believe it.
I always knew that word recognition — or speech understanding — was hard when his good ear was covered and he had to rely solely on his ear with the hearing loss. That's why we are so excited that his speech understanding in his aided ear improved so much after he was fit.
SHT: Anything else you'd like to share?
Frankie's Mom: Learning how to handle his hearing loss has been such an amazing discovery for myself and for my son. I am grateful that his hearing aid has helped him do well in kindergarten and socialize with his friends. He has enjoyed his summer and I can't wait to see what amazing things lie ahead for my son this year school as he enters first grade.
Join our community of Starkey Blog subscribers
Want a week's worth of Starkey blogs delivered to your inbox? Sign up here.