Along with the cooler weather and the leaves changing colors, fall comes with an assortment of exciting new sounds and activities: football games, outdoor concerts, apple picking at orchards, Halloween, Thanksgiving.
To help you make the most of this gorgeous fall season, here are some hearing help tips!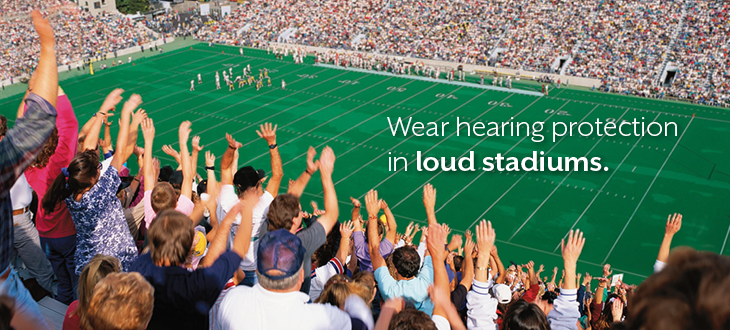 1. Football stadiums can get really, really loud
Fall means football is back, and if you're heading out to a game, protecting your hearing is key. In fact in 2014, NPR's "Extremely Loud and Incredibly Close: Fans Risk Hearing Loss" found that the crowd noise at NFL games averaged between 80-90 decibels (dB). Without proper hearing protection, exposure to 85 dB for longer than eight hours can lead to permanent hearing loss, and the higher the noise the less time it takes to cause hearing damage. What's scarier is that, while average noise levels may fall in the 80-90 range, shouts from fans push decibel levels into the hundreds. Case in point: A 2013 December Seattle Seahawks game where "fans broke the Guinness World Record for loudest crowd noise in history, clocking in at a whopping 137.6 decibels. (They even induced a mini-earthquake.)" Hearing protection is also key for other sports in the fall such as hockey and the final games of the MLB season.
2. Leaf blowers are not your friends
While the yellows, oranges, reds and browns of fall leaves are pretty to look at, using your leaf blower to remove them from your front lawn can damage your hearing. If you enjoy doing your own yard work, simply remember to use hearing protection such as foam earplugs or custom hearing protective devices like these from SoundGear.
3. Try a wireless accessory if you haven't yet
If you have our wireless hearing aids – Muse, Muse iQ, SoundLens Synergy or SoundLens Synergy iQ – and don't have a SurfLink wireless accessory, consider trying one this fall to help with group activities such as picking apples or selecting pumpkins for Halloween. The SurfLink Mobile 2 is great for group settings with its omnidirectional capabilities, and you can also use its directional microphone to enhance one-on-one conversations. This device is especially designed to work well in noisy environments.
4. Don't forget to customize your sound experience
If you have our Halo, Halo 2 or Halo iQ hearing aids, TruLink's SoundSpace and Noise Manager features are great for fall! Whether you're at a sporting game, out with friends at a local winery, hiking in the brisk fall air or just having a campfire with your family, use TruLink to create customized, geotagged memories that provide you with the most immersive and comfortable hearing experience possible. See how to geotag memories in this video.
Have your own fall hearing tip you want to share? Simply share it with us on our Facebook page or on Twitter and use the hashtag #FallHearingTip!
Join our community of Starkey Blog subscribers
Want a week's worth of Starkey blogs delivered to your inbox? Sign up here.