Today on our blog we are excited to share Dr. Yaakov Levi's story. Dr. Levi is a university professor and has worn hearing aids for many years. He was recently fit with Starkey's Halo 2 hearing aids. We sat down with him and his daughter, Karin, to talk about his hearing journey
Karin: The change in my dad's hearing probably happened several years ago and it was gradual. I would guess it was about 10 years ago, then it took a few years for him to be ready to try hearing aids. I knew my dad's military service impacted his hearing, and he openly talked about how there was no hearing protection used during that time. It saddens me to think that in addition to the sacrifice he made by serving in the military, the noise he was exposed to had also permanently damaged his hearing.
Yaakov: Before I was fit with my first set of hearing aids, I was always frustrated and the people I was communicating with were frustrated too. It was very difficult for me to function at work as a university professor.
Karin: It was really difficult to watch the negative impact his hearing loss was having on his life. I love my dad so much and my dad has always been very talkative, social and full of life. He is a teacher and "teaching" all day every day through even simple conversations/interactions is his passion.
During the years before he got hearing aids, I noticed that he would join less and less of our conversations during dinners and on the weekends when our family was together. He would just get very quiet. Wearing his new hearing aids has definitely positively impacted all parts of his life.
Yaakov: I agree! My new Halo 2 hearing aids have greatly improved my quality of life. I wear Starkey Halo 2 hearing aids. I was fit several months ago. It took a few adjustments, which I expected from the beginning since I have experience with other hearing aids.
There is a definite improvement over my previous hearing aids. I can adjust these with just a click. Activities such as going to the theater or watching a movie are much more enjoyable for me. Hearing well is an important part of my daily life and my profession depends on it. As a university professor I must be able to communicate effectively.
Karin: My dad is the most loving and selfless person you will ever meet. He is patient and his love for teaching shines through in everything he does. He LOVES my daughter, his first grandchild, more than anything, and it shows. He has such a special relationship with my daughter, who is 22 months old. They love to sing together, read together, and my dad is teaching her Hebrew, which she is really catching on to.
He spends a ton of time with her, teaching her things, playing with her, laughing with her. They have formed the most amazing relationship. She asks about him every day that she doesn't seem him, and gets excited when she knows he is coming over. He was the same way with me and my brother and it has been so beautiful to watch that bond form with my daughter. I can't imagine if they couldn't communicate the way they do.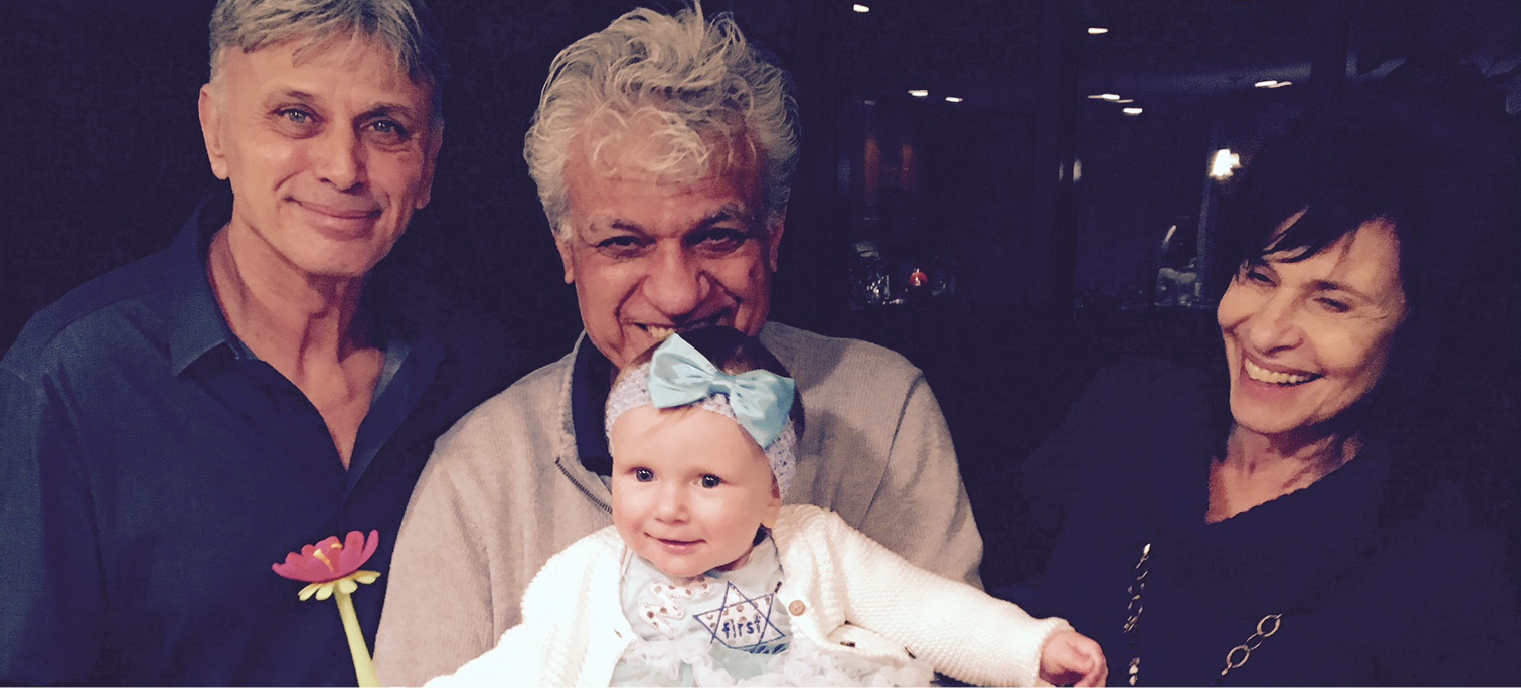 Starkey Hearing Technologies: Tell us a little bit about his recent hearing aid fitting.
Karin: He was very open to trying a new pair of hearing aids as he did wear hearing aids before. He was excited about the technology, he loves new technology, and I was so happy to see how diligent his hearing professional was at ensuring that he had the right pair and fit to get him hearing his best.
I have noticed a huge difference between his last hearing aids and this pair. He seems to hear much better and honestly, we never notice he's wearing them – you can hardly see his new hearing aids and I think he enjoys that. I think being able to hear more clearly and having hearing aids that are hardly visible has given him more confidence.
He is such a strong, proud man, and I think in the beginning it was really hard for him to accept that he had hearing loss and would need to wear hearing aids. But now he sees how much they help him. He is really active with work, family, and traveling. He also enjoys watching TV and keeping up on current events. I know that has definitely been better with hearing aids!
Yaakov: I agree with my daughter. I encourage anyone on the fence about pursuing hearing healthcare to go and try hearing aids! You have nothing to lose and a lot to gain. I've never considered hearing loss any different than any other health condition. Just like reading glasses, hearing aids are not an indication of a mental problem or an indication of age. I always encourage those interested in looking at my hearing aids to look and see for themselves.
Karin: I am really happy my dad is hearing his best! I am so glad my dad tried Halo 2s. Since he started wearing them, he joins in on more conversations, I don't have to repeat myself or speak loudly or ask if he heard what I said. He can more easily follow our conversations when we are together as a family.
Join our community of Starkey Blog subscribers
Want a week's worth of Starkey blogs delivered to your inbox? Sign up here.