With our new telehealth program, Hearing Care Anywhere, Livio AI hearing aid wearers can request minor adjustments to their hearing aids from their hearing care professional — without needing to make an appointment or stop into their office.
Hearing Care Anywhere is convenient, and it's easy to use
If you're a hearing aid wearer, you know that there are times when your hearing aids need a minor tweak or quick adjustment to ensure you're always hearing your best. Now, instead of bringing them into your hearing care professional's office, you can request — and they can make — many adjustments remotely, which saves you time and makes life even easier.
How to use Hearing Care Anywhere
Wearers just open the Thrive Hearing app, where they can create their request and send it to their hearing care professional.
Once the hearing professional receives the request, they will make the required adjustments, and then send the new settings back to the wearer, directly to their smartphone and hearing aids.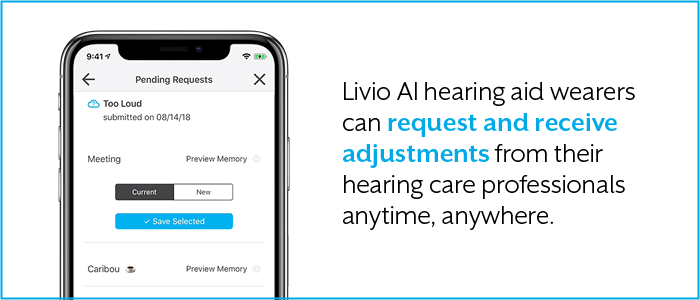 When the updated settings are received, Livio AI hearing aid wearers can preview them and compare them to their current settings. There's no time limit to accept the adjustment, so the wearer can keep the comparison until they are back in the environment that prompted them to make their original request.
Thanks to Hearing Care Anywhere, there's no more need to stop in to an office in order to make improvements to your listening experience.
To learn more about Hearing Care Anywhere or Livio AI hearing aids, call 1-888-908-1845 or click here and we'll help you set up an appointment with a hearing healthcare professional near you.
Join our community of Starkey Blog subscribers
Want a week's worth of Starkey blogs delivered to your inbox? Sign up here.