Since we first published this Q&A last winter, Gregory Scott's innovative app, SoundPrint, has been written up in The New Yorker ("Yelp for Noise"), vox.com ("Restaurants are too freaking loud"), Fast Company and more.

Q&A with SoundPrint founder, Gregory Scott
What's your biggest complaint about dining out? Is it bad service? High prices? Overcrowding?
If you said noise levels, then welcome to the club. That was the leading answer in a 2014 Zagat survey of 8,000 restaurant patrons.
Gregory Scott is in that club — but he decided to do something about it. A Starkey hearing aid wearer and lifelong New Yorker, Gregory developed SoundPrint — an iPhone app that he likes to call "Yelp for Noise".
In honor of Valentine's Day — the second busiest day of the year for dining out — we talked to Gregory about his smart and popular app.
Starkey: So real quick, what is SoundPrint?
Gregory: SoundPrint is a free crowdsourcing iPhone app that allows users to search for local restaurants, bars or coffee shops based on how quiet or noisy they are — think of it as "Yelp for Noise."
Starkey: How does it work?
Gregory: Say you want a quiet place to hear others without straining: for a first date, when family is in town, for a business meeting or a place to study. Users can pull up SoundPrint and search to find a restaurant or venue that's suitable for conversation.
Starkey: How does the app know if a venue is conducive for conversation?
Gregory: SoundPrint takes advantage of crowdsourced data to accurately measure volume and rank venues — Quiet, Moderate or Loud — then displays that info to the user. Just like Yelp does with reviews.
Starkey: Explain the "crowdsourcing" part.
Gregory: SoundPrint features a sound level meter that can measure noise levels — so when a user is at a venue, they can take a reading and submit it to the SoundPrint database. The more people who make submissions, the more robust the data is.
There are already lots of submissions in New York City, San Francisco, New Orleans, Las Vegas and Ann Arbor. We have been able to create curated Quiet Lists for those cities on the website: www.soundprint.co
We are seeking more submissions in other cities – big and small! And we are looking for SoundPrint ambassadors, as well. So anyone who is interested should reach out to me (info@soundprint.co).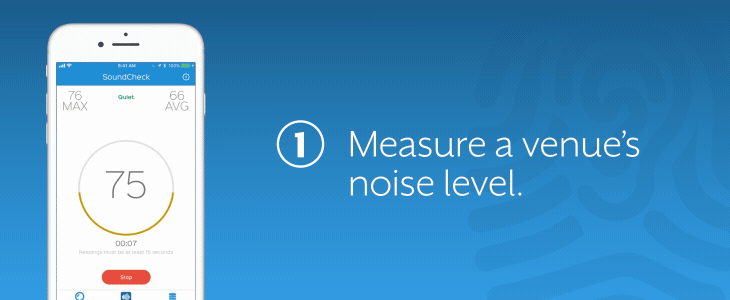 Starkey: How did the idea for SoundPrint come about?
Gregory: Dating in New York City can be difficult enough — but as someone with hearing loss, it's even more difficult considering how loud the average restaurant and bar is. This makes finding a quieter bar or restaurant that much more important.
In prepping for a date, I would often Google "quiet" places and search other websites. But when I showed up for the date, the "quiet" venue was inevitably very loud. The bartender would be playing loud music or the interior design was not developed with acoustics in mind. Tight table spacing would lead to conversations overlapping, causing everyone to raise their voices even more.
This made connecting with dates difficult, and taught me that most websites that review a venue's sound ambiance are not very accurate.
Starkey: So you developed SoundPrint?
Gregory: Not right away. First I started using sound level meters to measure sound levels and created my own quiet list. When friends started asking me to see the list, I knew there was an idea right there. That's when the app was born.
Anyone can take a measurement of a venue, add their own comments, and then submit it to the database for everyone else to see. It was built to create a sense of community, to help all of us find quieter venues. Of course, if you want to find the louder ones, that is possible too.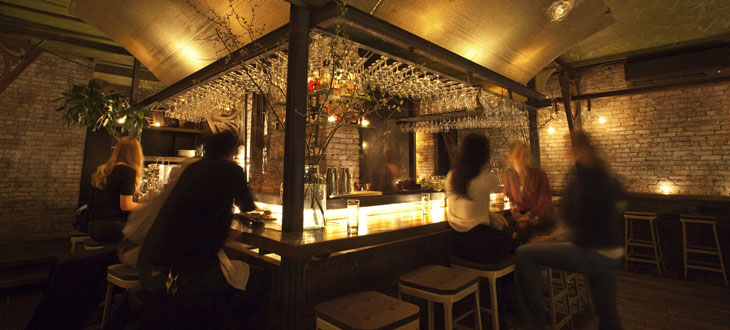 Starkey: It sounds like SoundPrint isn't just for people who have trouble hearing.
Gregory: Finding quieter spots has become an increasingly difficult issue over the years. It used to be common that restaurants were a place for quiet conversation. But today, many are often more a place for entertainment and to have fun.
Plus, changes in modern interior design have resulted in less sound absorbing features such as carpeting, drapes and tablecloths. Many venues intentionally turn their background music up, as studies show that this leads to customers buying more drinks or finishing their meals sooner resulting in increased table turnover.
All this has made loud noise the norm and hearing others more difficult. It is not just those with hearing loss who benefit from the app. A high number of our users hear fine and just want a quieter place to patronize.
Starkey: What other benefits does SoundPrint provide?
Gregory: SoundPrint's data shows that in New York City, San Francisco and New Orleans, restaurants and bars on average are too noisy for conversation, and a significant number are so loud they endanger the hearing health of patrons and venue employees. But restaurants and bars are often at loss of how to mitigate the noise.
The app provides the benefit of allowing users to discover where the quieter venues are, while helping to voice concern for loud noise. Each submission puts venue managers on notice that people care about the acoustic environment.
We are in the process of creating a program for venues that want to promote its quieter atmosphere to our user base.
Starkey: Where can people get SoundPrint?
Gregory: They can download it free for iPhone on the App Store for iOS devices.

Join our community of Starkey Blog subscribers
Want a week's worth of Starkey blogs delivered to your inbox? Sign up here.
Sources: