Our Livio AI hearing aids have been the industry's most talked about hearing aids since we introduced them in August 2018. The first hearing aids with built-in artificial intelligence and 3D sensors, they not only were revolutionary in terms of sound quality and wireless connectivity, they introduced features never before seen in hearing aids, including fall detection and brain and body fitness tracking capabilities.
No wonder they were named a TIME Best Invention in 2019.
Our newest update keeps Livio far out front of all other hearing technologies available. Called Livio Edge AI, these hearing aids deliver sound quality that, until now, has never been possible. They are also available in a custom rechargeable style — the worlds' first 2.4 GHz Li-ion custom rechargeable hearing aids!
Game-changing sound with Edge Mode
No matter how well programmed a hearing aid is, at some point we'll inevitably encounter situations where the acoustic environment is unpredictable and challenging. With Livio Edge AI, a simple tap of your hearing aids is all that is needed to make that situation more comfortable.
That's because that simple tap triggers the artificial intelligence inside Livio Edge AI to scan the environment and make acoustic changes on the spot to help you when you need it most. This next-generation sound processing is only available through Livio Edge AI.
With Livio Edge AI hearing aids, you can:
Hear speech comfortably even in busy settings while unwanted noise is suppressed.
Get superior sound quality, clarity, more natural hearing and effortless transitions.
Stream crisp, clear phone calls and experience music the way it was meant to be heard.
Connect via Bluetooth® with accessories and select smartphones.*
Along with this update to Livio AI, we've also updated our Thrive Hearing Control app, and are introducing Thrive Care, the world's first app that lets hearing aid wearers share health and wellness information with someone they trust.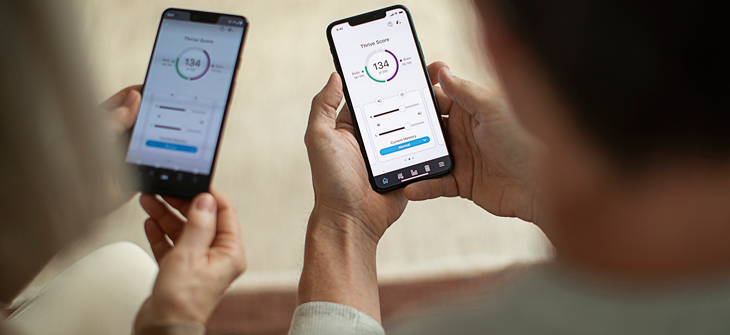 Do more with the Thrive Hearing Control app
The updated Thrive Hearing Control app gives you full control over your hearing aids using your smartphone. Like a TV remote, it lets you adjust volume, switch memories and manage other features that hearing aids couldn't do until now.
The Thrive app is easy to set up, use and navigate, and it gives you access to Healthable features like brain and body activity tracking, and information services like Thrive Assistant, Translate, Transcribe and Self Check, which lets you check their hearing aid performance without an office visit.
Introducing Thrive Care
The all-new Thrive Care app lets hearing aid wearers share information like physical activity, hearing aid usage, social engagement and more with pre-selected people. And you get to decide the information you want to share.
Exclusive to Livio Edge AI hearing aids, it provides peace of mind to those you choose to share information with while helping you feel confident and independent.
Try Livio Edge AI today
Want to try Livio Edge AI for yourself? Just call 1-888-908-1845 or click here and we'll help you schedule an appointment with a local hearing healthcare professional who can help.
Join our community of Starkey Blog subscribers
Want a week's worth of Starkey blogs delivered to your inbox? Sign up here.
*Remote Microphone + is required for certain Android devices