Observed every November since 1997, National Family Caregivers Month is a time to recognize and celebrate the millions of people in the U.S. who humbly and compassionately care for parents, siblings, neighbors and community members.
Grandparents, and older friends and relatives, particularly, need and benefit from the help caregivers provide — whether it's assistance with medicine, meals, transportation or simply providing companionship.
The caregiver's role is a challenging one, as they must balance their own busy lives on top of their selfless commitment to helping and caring for others. It's why this yearly recognition is so deserved.
Better hearing is a win for caregivers AND those they care for
One impactful way caregivers can make their lives a little less demanding — and the lives of those they care for more enriching — is to help them hear their very best.
When people can hear their best, they have an easier time communicating and staying connected. When people can hear their best, they feel more confident, engaged and less lonely. And when people can hear their best, it increases their independence and can make them less vulnerable to the issues caused by social isolation and hearing loss.

Hearing aids make it easy for people to hear their best
The easiest and most proven way for people to hear their best is to consult with a hearing care professional who can thoroughly test your hearing and prescribe hearing aids as a treatment. Hearing aids like Evolv AI. Evolv AI hearing aids not only sound exceptional, they deliver numerous other benefits the wearer — and caregivers — can take advantage of.
To make better hearing even easier, hearing professionals across the country now provide services like TeleHear, our popular telehealth service, which lets them make certain hearing aid adjustments and programming updates remotely via Evolv AI's companion app, Thrive.
With TeleHear, caregivers don't always need to take their friends and loved ones into the hearing professional's office to get help, as adjustments can be made remotely, from the comfort of the wearer's home.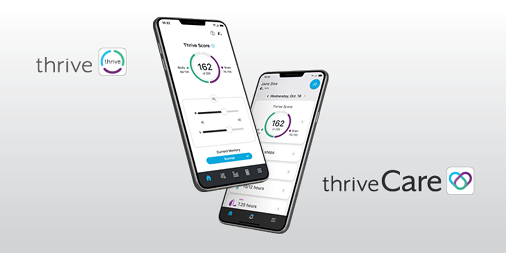 A hearing app that delivers peace of mind for caregivers
Another smart tool that caregivers can take advantage of is our Thrive Care app. Thrive Care is the world's first app designed specifically to help hearing aid wearers maintain more independence while giving caregivers peace of mind.
This easy-to-use, non-intrusive app lets the caregiver check in anytime and anywhere to see how their loved one who is wearing Evolv AI hearing aids is doing.
Thrive Care provides information around the wearer's social interaction and physical activities like walking or exercising — so caretakers can tell at a glance if they need extra help. It can even detect when the hearing aid wearer has fallen and send caregivers an alert message.
You can learn more about the Thrive Care app here.
Thank you caregivers!
If you are a caregiver, thank you for all you do to bring comfort to others. You put smiles on their faces and remind us all of humanity's potential. For that, we celebrate you this month — and are in awe of you every other month of the year!
If you want to find someone who you can consult with about treating hearing loss, simply type your zip code in here and you'll get a list of experienced and authorized hearing care professionals near you.
Join our community of Starkey Blog subscribers
Want a week's worth of Starkey blogs delivered to your inbox every Friday? Sign up here.